Mesob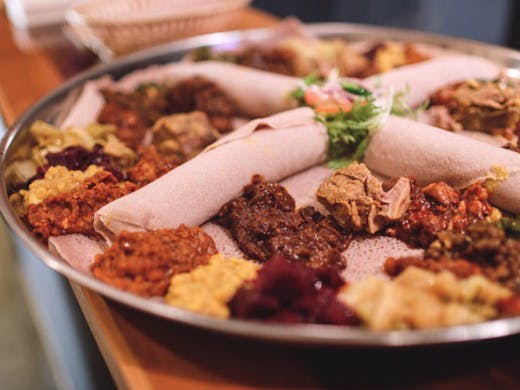 The Verdict
In a world where we're all rushing around, thinking about ourselves, picking from the same two Thai places to eat, it's hard to imagine that there are places in Melbourne that will shatter all of this. Owners Dawit Kebede and Naz Mahari have done us all a favour and are bringing the traditional tastes and flavours of Ethiopian cuisine to our dear city, shaking up our routine with their restaurant, Mesob.
One thing that really stands out about Mesob is that food is served in the traditional manner, and in Ethiopia, you eat with your hands. Yep, it's tradition to use an injera—essentially a large, thin flatbread that you rip and use as your spoon as you dig into the hearty and delicious share platters—as your cutlery. With gluten free and veggie options, even the fussiest of eaters can find something delicious to chow down on at Mesob.
The Ethiopian food culture is all about sharing, enjoying the food and having a good time. And that's just what's on the menu at Mesob.
Photo Credit: Mesob via Facebook
---