MetaScent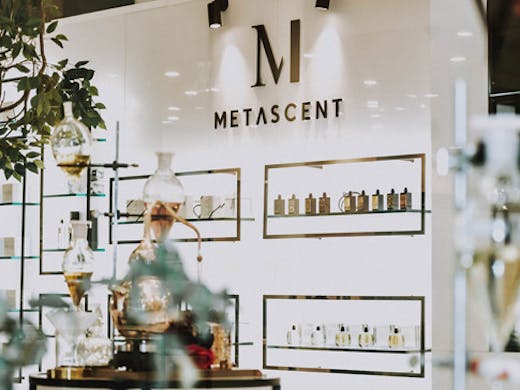 Located in the heart of the city on Collins Street is MetaScent perfume studio and retail store run by Janelle Donnelly and Huynh Hai Yen who met studying professional perfumery.
Hai Yen, who was born in Vietnam is internationally renowned, having released a variety of acclaimed scents and published several books on the art of perfumery. Australian Janelle Donelly studied environmental science which gave her an appreciation for natural beauty, particularly Australian landscapes which she incorporates into her perfume line, Apostle. The pair decided to collaborate to expand their creativity and share their passion with others.
Inside the studio, customers can create their own scents in a 2-hour workshop where guests learn how to make perfume using raw materials which they take away with them after the class. The shop is pristine with white marble floors, large glass doors and a lush green lit-up tree as the centrepiece. Groups can also choose to have the workshop at their own venue, whether that be a house or a private location where the team at MetaScent will provide all the materials to you. The retail store also stocks a range of luxury niche brands of perfume which are available for purchase.
So next time your bottle of perfume runs out or if you are looking for a fun activity with the gals, look no further than MetaScent for all your smelly needs.
Image credit: Supplied
---