Milhouse Canteen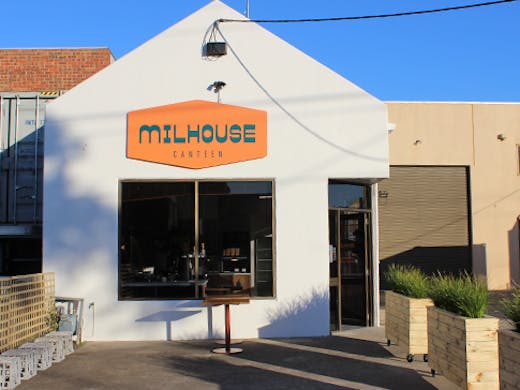 The Verdict
By now you'll be aware that we've always got a soft spot for a good sandwich. The newly minted Milhouse Canteen in the backstreets of Mordialloc ticks plenty of the boxes—a mouth-watering menu of sangas, pies, tasty coffee, and most importantly good vibes.
Resting in the Industrial estate of Mordialloc, the brother-run operation from Jarryd and Damien Feren has a unique feel to the factory-style buildings that surround it. The freshly white-washed canteen is a solid contrast to the area, and the bright sign atop the store is a welcoming beacon to the laid back cafe.
Milhouse offers a primo line-up of sandwiches, which are all made in-house. From the reliable bacon and egg with house shakshouka—to the eye-widening Millhouse Meatball, and the perfectly crumbed chicken schnitzel, which is served up in a Turkish roll with Milhouse 'special-sauce', tasty cheese and dill pickles.
Apart from the sangas you can also pick up cookies—or a freshly-baked cake special from the brothers own Mum, Gail, whose repertoire includes a killer banana bread. It's also a solid spot for a brew, with All Press coffee pouring into the cups.
There's plenty of charm at Milhouse, and plenty on the menu to keep you coming back.
Image credit: supplied
---