Millstone Patisserie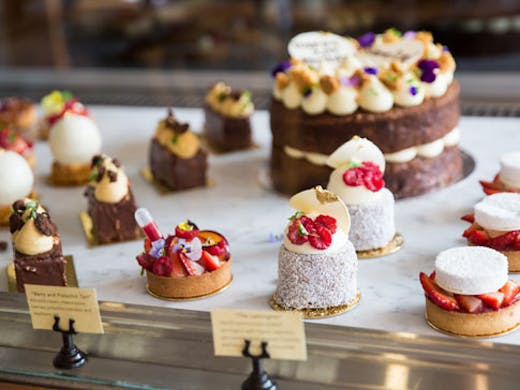 The Verdict
Cancel that trip to Paris immediately, sure there are sights to see like the Eiffel Tower, and the Arc de Triomphe, but we know you're really heading over there for pastries and desserts aplenty.
There's a little slice of Paris' pastry scene tucked down Claremont Avenue in Malvern, which is well-known to locals, called Millstone Patisserie.
Stepping foot inside you'll be greeted with freshly made salads, baguettes overflowing with ingredients, plain croissants, almond croissants, brownies, chocolate shards—it goes on and on.
But then you glance down and see the dessert display cabinet, filled with delights like 'The Egg'--reconstructed macadamia sable, creme fraiche white chocolate mousse, apricot and honey compote & tempered white chocolate—or the unbelievable cookies & cream 'Maxibon', and so much more. Desserts on offer change depending on what's on.
Millstone also offers catering for your event, and can even make that perfect cake that will please your hungry crowd.
There's a ton of great savoury options on their menu also. Their recent menu refresh features the likes of Creamy Winter Green Baked Eggs—leek, chard, eggplant, lashings of parmesan, and garlic rubbed sourdough—Mushrooms en Papillotte—mixed seasons garlic mushrooms, parmesan fried polenta, and a soft boiled egg—and sweet options like the amazing Strawberry & Cream Waffles.
If all of that's not enough, Millstone Patisserie also offers cooking classes like how to make fresh pasta and ricotta gnocchi. Find out more about those here.
Image credit: Jenna Fahey-White
---