Mitchelton Hotel & Spa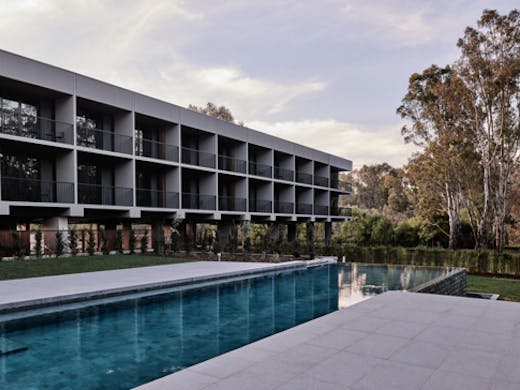 The Verdict
Want to know what $16m looks like in the hands of Victoria's hottest architects? It looks like the new hotel at Mitchelton winery in the Goulbourn Valley, a couple of hours due north of Melbourne.
Mitchelton Winery has run a swish cellar door for a while, but now they've added a boutique hotel to their iconic tower. It's all part of a massive redevelopment project by owner Gerry Ryan (the guys behind Jayco caravans, just FYI).
So what can you expect at Mitchelton? 54 beautifully appointed rooms, plus four suites. Snaps from photographer Trevor Mein and works by artist David Band on the walls. Floor-to-ceiling windows looking out over the turquoise infinity pool and surrounding countryside. Charcoal grey tones, marble all over the place, dark leather sofas and crackling winter fires. Basically the tippy-top of regional Victorian accommodation (right up there with Jackalope).
And you can't have boutique accommodation without a day spa, right? Mitchelton Day Spa describes itself as a "sanctuary of serenity", which pretty much translates to botanital therapies, spa treatments, holistic skincare and A-Grade products from Uspa. After an afternoon here, you can practically ooze into The Muse, Mitchelton's seasonal on-site restaurant.
Wineries have always known the value of accommodation, but Mitchelton represents the next evolution. It's not easy to do. You need tons of cash, an incredible architect (Hecker Guthrie handled this one) and just the right level of luxe. We're happy to say they nailed it.
Now, someone bring us a robe and a Riesling. We're gonna weekend-getaway the crap out of this place.
Image credit: Mitchelton
---