Mjølner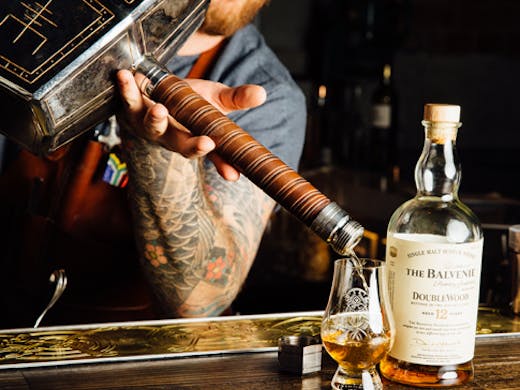 The Verdict
By the power of Odin, we humbly present Melbourne's hottest new restaurant and cocktail bar. A mighty venue, strong of heart and wide of stomach. Guys, welcome to Mjolner.
It's no exaggeration to say this is the most anticipated new opening since Storyville. A sophisticated Viking-themed restaurant and cocktail bar in the heart of the CBD, where beer comes by the horn (or the tankard), the cocktails put hair on your chest, and medieval food comes standard.
But this isn't some sort of kitschy theatre-dining experience. Mjolner is the real thing. The bartenders even LOOK like Vikings ffs: huge beardy dudes in leather aprons with Nordic tatts running up their arms. You half expect to see Chris Hemsworth in the corner, quaffing ale and singing powerful Asgardian ballads.
Mjolner Sydney was a runaway success, so it only made sense for The Speakeasy Group (Eau de Vie, Boilermaker House) to bring the concept to Melbourne. And it's slotted into the Hardware St scene nicely. Here's what you can expect:
Upstairs there's the kitchen and restaurant space—Viking food meets Melbourne fine dining. Andrew Wright is heading up the kitchen, and the menu is packed with hearty carvery plates, plus shared plates like roasted bone marrow, salmon gravlax and pig's head terrine. Veggos, don't despair: there's a savoy cabbage with grains and black garlic, and roast cauliflower with IPA-soaked raisins on the menu.
Downstairs is the Viking speakeasy (naturally), with some frankly insane cocktails. We're talking whisky literally poured from the hammer of Thor, forged in the fires of Svartalfheim. Giant horns of craft beer. Skål shots of aquavit and apricot. Or fiery concoctions like Eric The Red: Wyborowa vodka with port, tomato, beetroot, horseradish, pickled onions and spices, topped with root vegetable crisps.
A couple of these and you'll feel strong enough to invade the British Isles...
Image credit: Annika Kafcaloudis
---