Mocha Jo's Burger Bar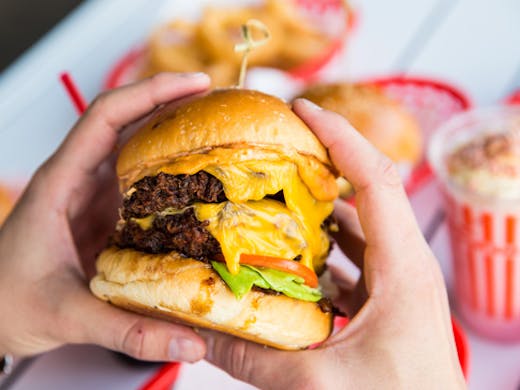 The Verdict
A tiny window front attached to the rear end of Glen Waverley favourite, Mocha Jo's, this humble burger bar is all about epic, affordable American-style burgers. Our favourites include The Southern, with a wagyu patty, U.S cheese, lettuce, tomatoes, bacon, jalapenos and Srirarcha mayo; or the Mac 'n Cheese with a panko crumbled mac and cheese patty, wagyu, double U.S cheese, lettuce, mustard, pickles, tomato, jalapeno and brown onion jam.
As if there aren't enough options, a range of loaded fries, popcorn chicken, and shakes are also on offer. For dessert, expect options like soft serve, hot jam donuts or the s'mores donut waffle – a waffle sandwich with toasted marshmallow and Nutella. It's called cheat day for a reason right?
There's a small selection of diner-style communal outdoor tables perfect for summer.
Image credit: Mocha Joe's Burger Bar via Instagram.
---
You May Also Like