MOFO Burgers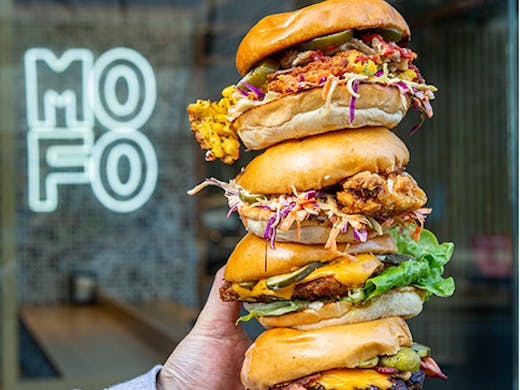 The Verdict
Carlton has always been a great place to escape the bustling noise of the CBD, and MOFO Burgers has arrived to give you another reason to visit the 3053 (post lockdown, of course). The new cheat meal destination was launched last May 2020 and is located strategically at 100 Leicester Street, Kwong Lee building of The University of Melbourne.
After bringing Stovetop to success with their coffee and unique dishes, the Seoud brothers, Sam and George decided it was time to fill the late-night cravings of Carlton locals with a loaded, no-bs dishes.
This new kid on the block is inviting you to an adventurous journey with their all-time favourite combo list, ranging from pulled pork to the famous mac n' cheese. But don't worry, they ain't judging if you choose to stay classic with their Double MOFO and must-try Carlton Classic.
Not a meat-eater? You haven't missed a thing. Be ready to be surprised with a loaded veggie burger, featuring zucchini, corn, chickpea, and quinoa patty, together with their flavourful gems and mac n' cheese bites. As a cherry on top, finish your order with their Oreo or Salted Caramel thick shakes. Whichever team you're on, these drool-worthy burgers are to die for.
The Seoud brothers have had to close doors to dine-in due to COVID 19, but the MOFO team is now offering high-quality takeaway through delivery partners like Uber Eats, Deliveroo, DoorDash, and Easi. Get your lunch, dinner or supper sorted from Tuesday to Saturday, 11am to 11pm.

Check out other Melbourne restaurants offering takeaway here.
Image credit: supplied.
---