Monforte Viennoiserie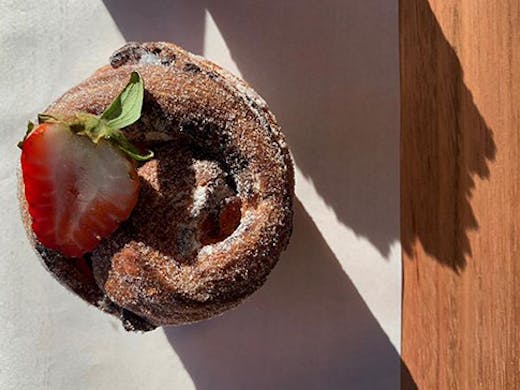 The Verdict
Carlton North lost one of the good one when hole-in-the-wall cafe Bü shut up shop at 2019's end. Ever since locals have been waiting for something to fill the void, and after nine months, Canning Street and surrounds welcomes Monforte Viennoiserie to the charming corner store locale.
Like a lot of hospitality ventures arising out of the COVID-19 pandemic, Monforte's menu is considered, with founder Giorgia McAllister Forte focusing on just a few offerings and refining the absolute heck out them—that being Euro-inspired pastries and artisan jams to accompany your weekend treat.
It's a croissant-heavy affair, with pretty much everything made on-site. The varietals on offer rotate regularly, with McAllister Forte leaning on the seasons for inspiration and ingredients; highlights from their first weekend of trade include a savoury guanciale, Parmesan and thyme croissant, gluten-free strawberry and yuzu muffins along with an almost illegally addictive strawberry cream cheese bun.
McAllister Forte's winning formula hasn't just been stumbled upon, though. The pastry chef of 10 years has earned her stripes at London's Violet in Hackney under baking royalty Claire Ptak, not to mention several seasons cheffing under England's Mark Hix.
Her learnings may be of international pedigree, though the ingredients used are all gathered from within Australia, and most from local farms within Victoria. The grind also comes from just around the way courtesy of Everyday Coffee.
Currently, Monforte Viennoiserie is trading from 8:30am until sold out on Fridays and Saturdays. In case you haven't assumed as much, it's recommended getting down early for those wanting to try what is arguably some of the best pastry in Melbourne.
Image credit: Monforte Viennoiserie
---