Monroe's Burgers & Beers | St Kilda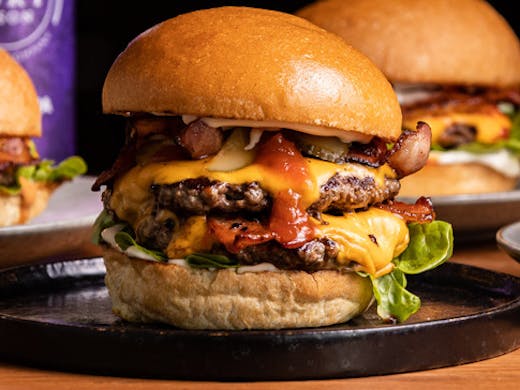 The Verdict
Known for serving up creative yet mouthwatering gourmet burgers, Yarra Valley viral burger sensation Monroe's Burgers & Beers has garnered a huge and loyal following of burger-lovers since their opening in 2016. Now, they've opened a venue on Acland Street in St Kilda to bring Monroe's experience to a wider audience.
Boasting both a classic and a secret menu, it would be criminal not to slowly make your way through both. You can't go wrong with classic offerings like Swine Time (freshly ground prime beef, bacon-infused mayo, American cheddar, streaky bacon, lettuce, tomato, caramelised grilled onion and tomato relish) or The Deep South (Southern fried chicken breast, lettuce, red onion, Alabama white barbecue sauce, Southern-style barbecue sauce and chipotle-spiced pickles). Secret menu favourites include the Ron Burgundy: ground beef pattie stacked with a deep-fried, Pringle-crumbled wheel of Brie cheese, maple bacon, Scotch and honey barbecue sauce, blackberry and onion jam, American cheese, and the lot drizzled in Hickory baconnaise.
Besides juicy burgers, a visit to Monroe's would be incomplete without gorging yourself on their crazy delicious sides. We recommend digging into The Notorious P.I.G, which is a concoction of thick-cut chips, hickory-smoked pulled pork, chipotle mayonnaise and Sweet Baby Rays barbecue sauce. If you're feeling cheesy, the Three Cheese and Truffle Fries will certainly do the trick: thick-cut chips, truffle mayonnaise, pecorino, romano and Reggiano cheeses.
If you're vegan or vegetarian and feeling left out, Monroe's will also soon be unveiling their new vegan and vegetarian menu which features not just one but 12 meat-free burgers, so buckle up.
To wash it all down, there's plenty of refreshing craft beer to be had. Monroe's current tap list features hits like the Peanut Butter Porter from Bad Shepherd, a Peach Milkshake IPA from Dainton and an Apple Crumble Dessert Sour from Moon Dog.
The ingenious menu and down to earth team makes dining at Monroe's Burgers a delectable delight for all. Whether you consider yourself a burger connoisseur, snob or idealist, Monroe's incomparably unique burger and beer offering is something special and needs to be seen, tried and tested.
Image credit: Supplied
---
You May Also Like