Moon Dog Craft Brewery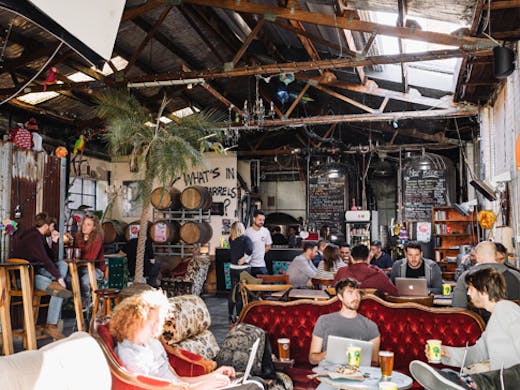 the verdict
Abbotsford's favourite brewery bar is growing up. Moon Dog Brewery has recently taken over the warehouse next door, expanding their beer capacity (they're able to pump out a ridiculous 2.5 million litres a year, now) as well as launching a pizza trailer and roller disco. Yep, all in a day's work for the Moon Dog boys.
The bar is still dishing up ice-cold taps of Moon Dog's signature brews: Old Mate Pale Ale, Love Tap Lager, Mack Daddy Dark Ale, Beer Can etc. But the new space means they can expand their barrel program (up to 100+ now) and work on a few specialty frothies. Stuff like Pineapple Pale Ale, Passionfruit and Coffee Porter, Black Forest Stout, Barrel Aged Smokey Stout and Fruits of the Forest Wild Ale.
Wander next door and you'll find the delightfully kitschy pizza parlour. All pink flamingoes, palm trees, mismatched furniture and a small shrine to the late, great John Candy (RIP). You'll find 10 rotating craft beers on tap, plus other assorted bevvies. The caravan crew are slinging a select range of gourmet pizzas, designed to soak up the suds. Think revamped combos like the 'David Hassle Hock', topped with roast ham hock and pickled pineapple, or a truffled mushroom masterpiece called 'There Ain't Mushroom In The Town For...'
As if all that wasn't enough, the team are also doing Roller Disco Sundays on the first Sunday of every month. The warehouse gets a disco-style makeover, thanks to the legendary Tamsin at Malt Shop Be Bop Hop Roller Arena. You can strap on your skates and enjoy live DJ tunes, mirror balls and (of course) all the beer you can drink. Roll on down and check it out.
Image credit: Moon Dog
---