Morris Jones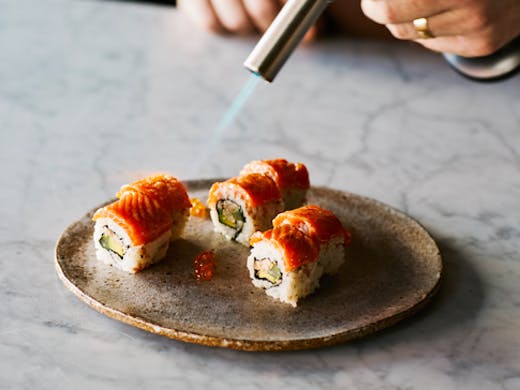 The verdict
The only thing better than a new opening is an old opening...with extensive renovations. Presenting the new-look Morris Jones: a slick Cali-style dive bar, with a dollop of Japanese grunge.
Now most of you Southsiders will be familiar with Morris Jones. It's been rocking the Chapel St strip since the doors opened back in 2012. You could say it was one of the Windsor frontrunners—a bar that set the tone for what became the South's most electric district. Seriously, throw a brick around Windsor these days and you'll hit a secret Prohibition-style wine bar slash hawker breakfast salon. There's still a bit of scuzz around, but that only adds to the neighbourhood charm.
Morris Jones new incarnation is nothing like the original. Gone is the high-brow French menu, and the interiors have had a serious tzuj. Founder Hayden Burbank roped in award-winning designer Alex Zabotto-Bentley to create an eclectic space, modelled on the boulevards of West Hollywood. Vines and foliage hanging from aerial pergolas, a curved bar carved from Carrara marble, fresco-stained walls and ages Tasmanian oak tables.
"California and Melbourne share many parallels," says Burbank, who believes this new concept identifies with the playful yet sophisticated Morris Jones. "They're not afraid of having fun and making a splash; and-play home to some of the world's best bar and dining scenes."
So what should you order? Start with the MJ Cali hand rolls and salmon sashimi, the dial it up with the Surf n' Turf Roll—tender prawns and Wagyu beef, with unagi sauce. That's three animals in the one sushi roll...holy hell.
There's a Raw section on the menu if you're vibing some tuna poke and natural oysters, or you can skip the cold stuff and go straight to the dumplings (our favourite part). Prawn and XO with coriander and ginger sauce. Scallop dumplings with Japanese Worcestershire. And our personal pick—crab dumplings with sweet plum and black pepper sauce. This isn't your '12 fried pork & prawn' sort of place...
Whatever you do, save room for the mango and burnt lychee sundae, served with a sake & sudachi crumble. That thing is a frontrunner for dessert of the year...
Image credit: Kristoffer Paulsen
---