Mr Burger | Bentleigh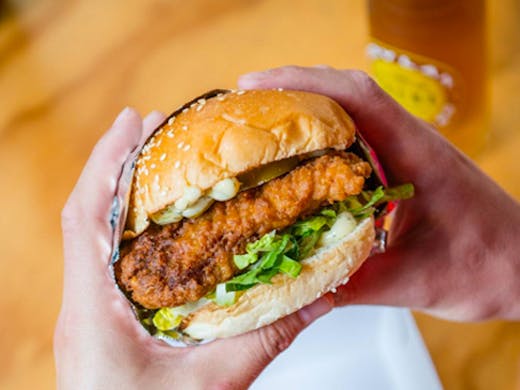 The Verdict
The Mr Burger empire has grown steadily over the last few years. From a food truck fleet to bricks and mortar stores. Even a competition where they offered someone a lifetime of free stacks...if they changed their last name to Burger (anyone whose surname was already Burger was, sadly, ineligible).
Now the Mr Burger team are branching out again, launching their very first concept restaurant in Bentleigh,
What does that mean exactly? It means this store is more of a testing ground. A place for mad experiments, new ideas. Things you wouldn't get on the standard Mr Burger menu...at least, not yet.
Mr Burger's new head chef Morgan McGlone (founder of Belles Hot Chicken) has been brought on board to put his spin on the current menu. You can expect a Mr Burger homemade hot sauce, custom burger seasonings, hand-made onion rings, Oreo cookie shakes, even a new burger called The Deluxe (McGlone's spin on Maccas' classic McFeast).
"I loved what the Mr Burger guys were already doing," he says. "I just tried to take their formula to a whole other level". The results: delicious.
The coolest part of the new concept store is the community spirit. Like it or not, Mr Burger isn't a start-up anymore. They're big players in the Melbourne burger scene, and they take that responsibility seriously.
So when co-founder Daragh Kan opened the new store, he wanted to fit right in with the tight-knit Bentleigh community. To that end, they've hired a bunch of staff from the area, started fundraising with sporting clubs and community groups and are expanding their existing staff volunteer program to the area.
Want some more good news? In a few months, the new store will be slinging for favourite beers on tap, including Melbourne Bitter and Goose Island IPA. Bring on the summer sunshine—we've got burgers to eat.
Image credit: Mr Burger
---
You May Also Like