Mr Miyagi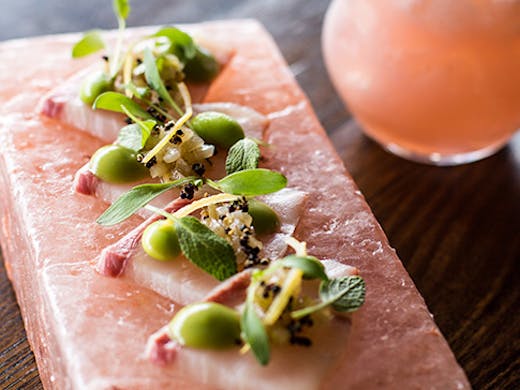 The Verdict
Unless you've been living under a rock (or you don't have an Instagram account), you'll know Mr Miyagi and their signature Nori tacos.
This place has been popular pretty much since its inception five years ago, and has developed a massive southside cult following.
In fact, Miyagi's Executive Chef, Kyle Doody, wouldn't dare take crowd favourites like the Salmon Nori Taco, MFC (Miyagi Fried Chicken) or Pumpkin Toast off the menu for fear of some kind of backlash.
"I'd get death threats if I took them off the menu," he laughs.
You can't really fault the punters' passion though, when the tacos are made with Kombu-infused, slow-cooked salmon, sushi vinegar rice, fragrant kimchi and black bean chilli oil, encased inside a crisp Nori taco shell. Side note—the taco shell doesn't break apart no matter how many times you chomp into it. Trust us, we gave it a good go.
The new menu doesn't disappoint either, with the same "bright, breezy" and "frivolous" approach to the food.
"We want you to come in expecting one thing and then we deliver something completely unexpected", says Kyle. "What we're doing that's new is lightening our dishes and making them more appropriate for summer".
A new favourite comes in the form of a Mr Miyagi, pimped-up version of a McDonald's apple pie.
"Imagine a really over the top version of that, with some stewed Fuji apple, nashi pear and granny smith apple, inside of a crisp, cream cheese pastry shell, some salted white choc rock with some fluid apple gel and served with a dulche de leche ice cream and caramelised cornflakes". Yeah, that's definitely better than the Maccas version.
We recommend the Himalayan Salt Slab Cured Kingfish with podded edamame, fennel and apple vinaigrette, crispy black quinoa and house-preserved lemon. The South Australian Kingfish is literally served raw on a hefty slab of pink Himalayan salt, and from there it's up to you to eat it as its most perfectly cured stage—they suggest admiring the dish for five minutes before tucking in.
The main deal here is to just have a good time. The food is definitely taken seriously, but they just want customers to have an enjoyable and playful experience. After all, the restaurant is named after the sensei in The Karate Kid. Having fun here is almost essential.
"We like to make you as much a part of the experience as the chefs are, hence our large, open kitchen where you can see them making it in front of you".
Make sure to rock up for an early dinner here to score a table in time. Like we said, they're popular.
Image credit: Annika Kafcaloudis
---