Murray's Food Store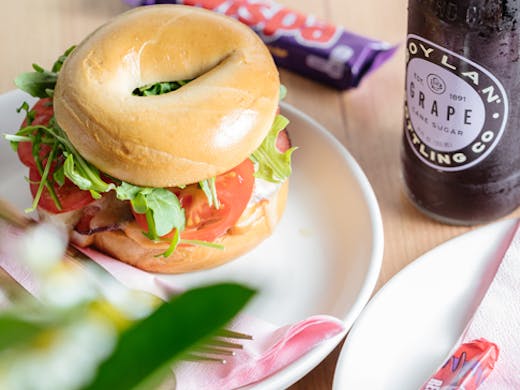 The Verdict
Last year, in a leafy Prahran side street, a suburban milk bar died. It's a story that happens every other week in Melbourne, but for hospo power-couple India Gauci and Jeremy Gaschk (of Easey's fame) it was a chance at a life-long dream: owning their very own milk bar…with a foodie twist.
The result is Murray's Food Store, a modern-day nod to the nostalgia-soaked milk bars of the past. You know the ones: musty shops where inflation somehow never became a thing, frogs were 10c a bag and the Coke cans were always sub-zero cold.
"We wanted to honour the past," Jeremy says. "This shop has been here since 1910, and there's a real community spirit around it. It's a place for people to just be themselves." India nods from behind the old counter: "I grew up round the corner," she says. "When my Mum was rushing to the hospital with me inside, she stopped here first for a chocolate bar." You just can't fake that kind of history.
Murray's interior is a cool mish-mash of old-school milk bar memorabilia, hot pink highlights, exposed copper piping and grungy street art. Somehow it all works. The food doesn't miss a beat either: you can get flaky home-baked pies (try the Cheeseburger Pie, it's ridiculous) and sausage rolls the size of freakin' burritos. There's a range of fresh-made bagels, loaded shakes, handmade muffins and old-school pick n' mix lollies. Hell you can even pick up a carton of milk and a dozen eggs if the fridge is running low. The whole thing just feels amazingly unpretentious, which is a really tough gig to pull off when you're reinventing the modern-day milk bar. It's a mission fraught with lame hipster pitfalls, but Gaschk and Gauci seem to dodged every one. They've even got plans to expand the model:
"We're always saying, if anyone sees an old milk bar closing down, tell us. We'll come and pimp it out."
Image credit: Griffin Simm
---