Native Home, House of Plants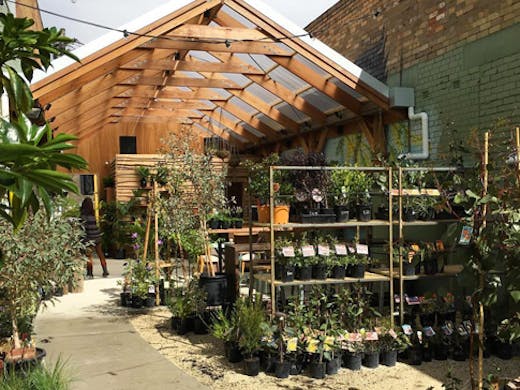 The Verdict
A nursery and jaffle bar, all in one? You better believe it, because nestled in Melbourne's inner 'burbs is our new favourite green space: Native Home, House of Plants.
Native Homes is an Aussie-themed nursery (clue's in the title), specializing in native plants that you probably know from old episodes of Better Homes and Gardens. It's also dishing up jaffles and specialty coffee from Reverence Coffee Roasters to complete your green retreat.
Enjoy the cuppa with a side of gluten-free or vegan chocolate fudge slices, croissants, and blueberry or apricot Danish pastries.
Catering to all your dietary requirements, you can choose full cream milk or almond milk for your coffee, or opt for a vegan chai. And if coffee's not your thing, they also have Superfood Sodas for the ultimate health cleanse.
The interior space is one of the prettiest we've seen. Exposed brick walls, coated over in sky blue and wispy painted ferns, natural light everywhere.. Between the shelves of bright red Eucalyptus and Banksia coccinea, you can find yourself a seat on the long bench and admire the Ironbark timber frame ceiling. The term 'urban oasis' gets thrown around a lot, but this thing is the real deal.
Jaffles run 'til 3pm daily with the hot favourite up for grabs: organic baked beans and jalapeños, topped with spicy Siracha sauce. There's a sustainable vibe too: all waste is composted and take-away cups are the way to go. Plant-wise, take your pick. Year-round flowering iplolaena grandiflora or wall-mounted platycerium—the guys behind the counter can help you figure what will look good and (most importantly) not die.
Definitely one for the Insta.
Image credit: Native Home, House Of Plants
---