New Shanghai | Collins Street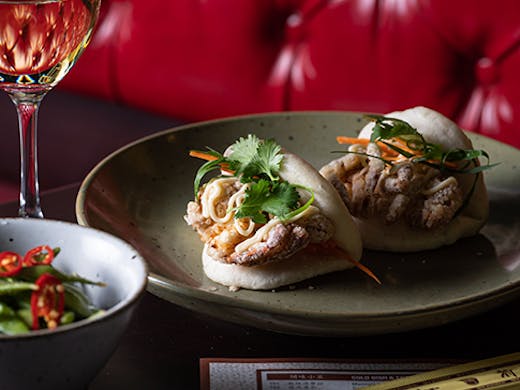 The Verdict
Chinatown is getting a run for its money over on Collins Street with the latest culinary arrival serving up a smorgasbord of Shanghainese cuisine. New Shanghai may already be familiar to you—their Xiao Long Bao is famous across Australia and you might have tried it at Emporium or Chadstone—but this new concept restaurant isn't just another link in the chain. They're taking things up a notch with a sophisticated dining space, a large bar complete with a generous cocktail list, an outdoor dining area and a new Chinese tapas-style menu.
The newly expanded menu has over 200 delicious plates to choose from, including their iconic Xiao Long Bao, simmering hot pots and pan-fried buns plus some exciting newcomers. Forget the cutlery and sink your teeth into the star of the menu—their grilled Shanghai-style skewers packed full of soy and Sichuan pepper flavours. Order one at a time or throw down and get a plate of six.
The menu has been thoughtfully designed to suit any occasion, from after-work drinks to date night or full-on family feasts. And with so many options to choose from, you'll need to visit countless times to try them all.
Like any authentic Chinese restaurant, the drinks list starts with tea, but let your eyes travel across the page to the tantalising selection of signature cocktails on offer. They've taken the classics but with a Shanghai twist—lookout for the lychee martini and the Mandarin gin fizz. They've also got an impressive list of local and imported wines on offer, and the same goes for beers. The drinks list is also super friendly to those refraining from booze, with mocktails, signature cold drink blends and mixed teas available.
The restaurant itself is looking lush, with foliage hanging from the ceiling and Shanghainese artworks dotted around the walls. The 300-capacity space is a homage to the Chen family who started New Shanghai over ten years ago after immigrating to Sydney from Shanghai. Nine restaurants later, the legacy is looking pretty strong.
Image credit: supplied
---