Nice Paws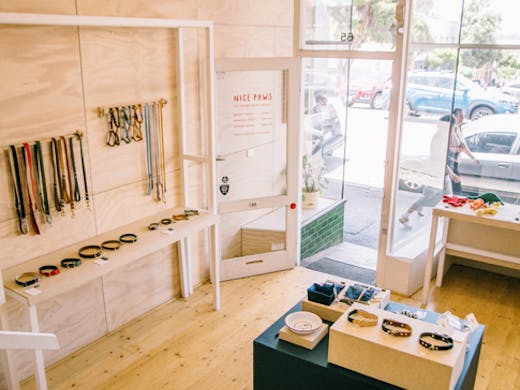 The Verdict
Ever get the feeling your dog could be more stylish than you? (It's okay, we've all been there.) Well heads up, you're gonna like this place.
Nice Paws is a pop-up retail space for pooches and kitties—the brainchild of gallery owner Bec Capp and professional picture framer Nelson Armstrong. The couple got frustrated by the lack of sexy, ethical pet supplies that didn't cost a million bucks. They decided to start an online retail store. It went gangbusters, and now they've got a bricks and mortar business on Smith St.
It probably goes without saying, but isn't your typical pet supply store. If your dog was named Travis, rode a fixie and owned his own Collingwood loft, he'd probably shop here. It's a sleek, minimalist pet paradise, full of beautifully designed pieces—both from local designers and niche overseas labels.
Get the shopping list ready. They've got Pawmade pad protectors for delicate feet, Mr Paw Conditioning Shampoo, sexy AF collars from Howlpot and cute rope toys from Jax & Bones. Looking for a snack that isn't Schmackos? Nice Paws stocks artisan beef strips from boutique supplier Mog & Bone. There's even a small selection for humans—think environmentally safe waste bags, accessory pouches and even subscriptions to Four&Sons, the world's most stylish pet magazine (it looks like Cereal for dogs).
Bec and Nelson are still running the online store, but there's nothing like browsing the aisles in person. Just don't take your pet along—they'll be pestering you for presents all the way home...
Image credit: Nice Paws
---