Nimbus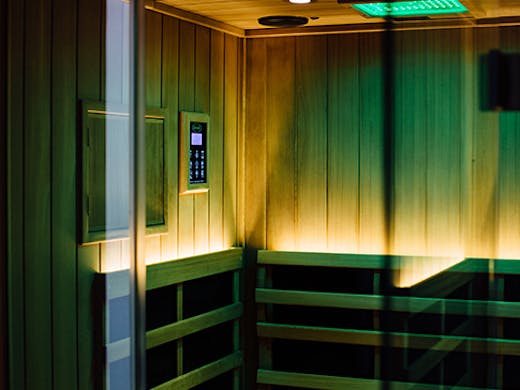 The Verdict
We didn't know what to expect from an infrared sauna. Is it a microwave sort of deal? Do you sit there under a heat lamp like a pub parma? And what exactly do you wear...?
All these questions were answered when we rocked up to Melbourne's new infrared salon, Nimbus. These guys have become a pretty big deal in New South Wales, where they have two clinics (Bondi and Byron). This is their first Melbourne space: a high-ceiling warehouse in Cremorne that smells like a meadow in springtime, or maybe a Sultan's pyjamas. It's weirdly soothing in here.
"Our other two spaces are by the beach. We wanted this one to feel more Melbourne," says Nimbus founder Su Tuttle. "We want this to be a place you come to unwind and chill."
Make that Netflix and chill—because this is an infrared sauna, there's no steam, which means electronics are fair game. The glass-cube saunas at Nimbus have a little port where you can charge your phone, and Su says they're going to bring in iPads so you can watch Netflix in there.
Considering we were expecting towels, steam, sweat and rampant nudity, this came as a surprise.
"You do go nude though," says Su. "We have three single person saunas and one two-person sauna, so people can wear bathers if they want."
The saunas themselves look like isolation pods, or possibly spaceships. They're glass-walled cubes with a little control panel on the side. You sit in there and your body gets bombarded in infrared light. It's not dangerous, and it gives off radiated heat, which penetrates deep into your muscles and tissue. This makes it great for relaxation, exercise recovery, muscle injuries and chronic pain. Su says it's even effective against anxiety and stress.
So how much will it cost you to sit there and sweat out your toxins? Not much actually. A casual session is $45, and you can get three sessions for $99. There's also a bunch of membership options available.
Su says she wants to make these experiences as accessible as possible. "Everyone's welcome here," she says. "We want people to fit this into their routine. Wednesday lunchtime, go for a sauna."
Image credit: Annika Kafcaloudis
---