Nosh | Melbourne Central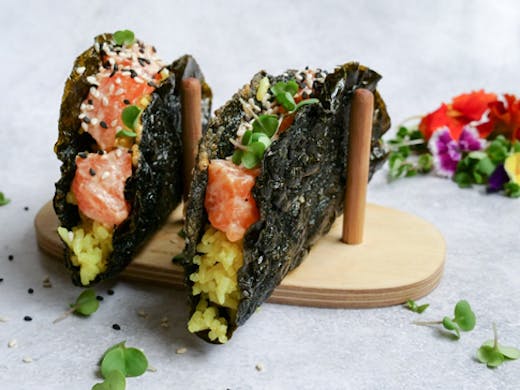 The Verdict
Nosh (v): to eat enthusiastically. Which is pretty much what you're getting at Melbourne Central's new poke bar.
We've got to say, Melbourne Central has lifted its food game in the last few months. We got Tella Balls dessert bar, Uncle Tetsu popped-up, slinging the spongiest cheesecakes known to science, and now you can get epic poke bowls and shatter-crisp nori tacos by the bucketload.
If you haven't heard of Nosh, they're one of the new generation poke crowd. But as any Melbournian knows, there are poke bowls and there are poke bowls. These are the latter kind: zingy, flavour-punching superbowls, chock full of tender salmon chunks, shoya-infused tuna, edamame beans, sweet potato, charred capsicum, sesame seeds and every other colour of the rainbow.
Seriously, our team has eaten more poke than you've had hot dinners, and when we checked out Nosh's last store we pretty much ate the place out of salmon.
Our personal pick is the signature Poke Party bowl: fresh salmon chunks, doused in a lip-smacking roast sesame sauce (this stuff tastes too good to be healthy), a bed of coconut-infused rice, edamame beans, spinach, roast sweet potato and capsicum. Unlike a lot of poke bowls, this one won't leave you craving a Big Mac afterwards.
Special shout out also to Nosh's nori tacos. Probably the other stand-out item on the menu. Imagine the perfect crispy nori, stuffed with Sriracha mayo and salmon, or maybe grilled tiger prawns and turmeric rice, or tamarind tofu or—you get it, these things are effing delicious.
Swing by today and Nosh is even giving out FREE poke bowls (limited numbers on this one, so get in quick). If you miss out on the freebies, they're also celebrating the new store launch with 2-for-1 bowl specials all day. Get around it.
Image credit: Nosh
---
You May Also Like
Food & Drink
Melbourne, VIC
Fans of flavour and seafood feasts, listen up. Louisiana-style Crawfish sensation,…