Ocean Beach Pavilion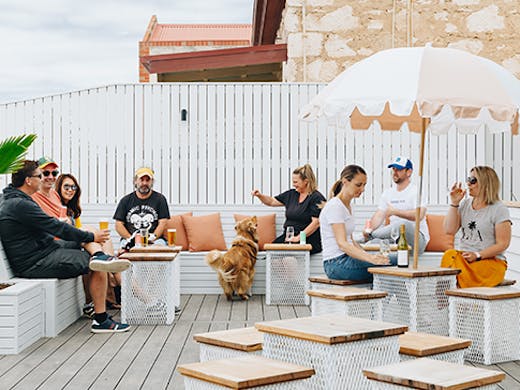 The Verdict
Gingerboy's Teague Ezard has teamed up with several heavyweights to bring the Mornington Peninsula the Ocean Beach Pavilion, a casual restaurant and bar bringing south-east Asian flavours down to the 'Ninch.
Along with Ezard, the concept is backed by Jerome Borazio of St. Jerome's and The Emerson's Mark Hinkley, and together, the trio has created a multi-precinct venue dialled for summer. First up is the Gingergirl hawker-style menu, a casual all-day menu nodding to its big brother, Gingerboy.
"I have been spending the last few months developing a spin-off on Gingerboy—a concept adding buns and bao, small courses all easily shared and something I feel will cater for all. I really want to focus on supporting regional local producers and their award-winning produce," Ezard said.
Ezard has also got his hands on the breakfast menu, offering a brekky banh mi, a crab meat omelette and several other full-flavoured dishes to get the day started.
Saunter on into the afternoon and you'll stumble across the OBP Prawn Shack, slinging buckets of prawns fresh from Mooloolaba at wholesale prices—you can also take some to go if you'd prefer.
Meanwhile, cult Peninsula gelateria OKAY LUCY will be setting up shop over summer should the frothies and cocktails not keep you cool enough.
The space itself is expansive, you've got a palm-laden deck, a larger coastal mess hall primed for you, your mates, your folks and your kids and an open-air terrace for those balmy summer evenings. Ocean Beach Pavilion is set to open this month—keep up to date here.
Image credit: supplied
---