Ollie's Deli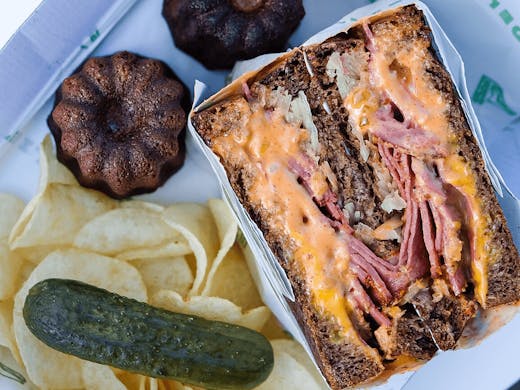 The Verdict
Making noise from their Footscray stronghold, Ollie's Deli is bringing a bite of Melbourne's heaving deli-sandwich scene to the Western suburbs. Pronounced 'Foot-A-Scraaay' by local legend and furniture kingpin, Franco Cozzo, Ollie's Deli calls the suburb home with a laid backspace on Barkly street.
The little black-tiled shop has been an instant hit in the area with a line out the door on most days. Co-owner Allen Vong who runs Ollie's alongside a collective of close friends from the Western suburbs described the immediate success of the sanga operation; "it's been overwhelming, the community has just been backing us day in day out", says Allen.
Whilst the menu might be light, the sandwiches are anything but.
The current heavy hitters flying out the door are the BCF (Buttermilk fried chicken) with a thick piece of buttermilk panko-fried chicken on a milk bun with pickles and house-made sauce. Another clear fan favourite is the pastrami a homage to the traditional Reuben with thick-cut rye bread, sauerkraut, American cheese and Ollie's secret sauce,
Alongside sandwiches, there's also primo coffee supplied by Industry beans and baked goods on offer, what else could you want.
Image credit: supplied
---