Om Nom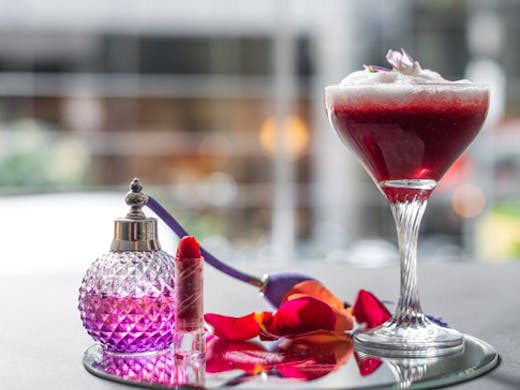 The Verdict
Om Nom turns dessert into a true art form. Each creation isn't so much a stand-alone dessert as it is a fully-fledged masterpiece, as if your Willy Wonka dreams transplated themselves onto your plate in luxurious form.
The Om Nom Choc-Nut-Bomb, for example, is more than just your standard chocolate parfait. There's also the salted peanut dacquis, chewy peanut caramel, chocolate bubble wrap, hazelnut gel and gorgeous rosemary flowers. This dessert bar in the CBD creates an edible garden of eden in amongst the concrete jungle, and to top it all off, you can enjoy it with one of the equally decadent cocktails.
Speaking of—Om Nom has cocktail radar since they froze a salted caramel espresso martini with nitro, and delivered us a mojito you could inhale. Their new cocktail menu is just as decadent – a hubba bubba martini could keep any sweet tooth happy, and you can Netflix and chill with the 'Netflix Movie Nights' served in a popcorn box. But the piece de Instagrammable resistance is the 'Champagne Bubble Bath' - served in an actual mini bubble bath! Have a browse of their insta and you'll see what we mean. This place is doing the most ambitious cocktails in town.
Image credit: Om Nom
---