Once Alike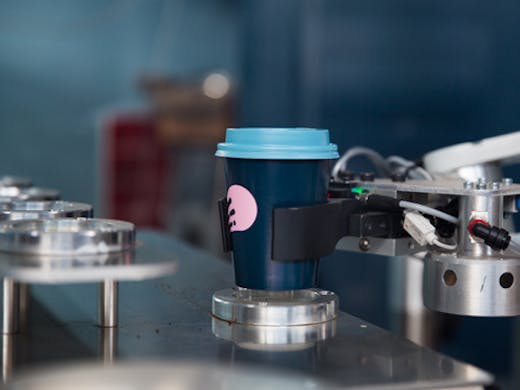 The Verdict
In a Collingwood backstreet, behind a dark curtain, there is a cafe with a very strange barista. This barista has no face, hair, pulse or eyes (apart from a slightly Terminator-esque glowing red orb, which seems to follow you 'round the room).
Welcome to Once Alike, the home of Melbourne's first wholly automated, robotic coffee maker.
To be clear, this isn't automated in the way your Nespresso pod machine is automated. This is about as close as you can get right now to an algorithmic barista. This particular machine's name is Rocky, a state-of-the-art fusion of hardware, software and coffee smarts from Once Alike's parent company, engineering firm Aabak.
This thing doesn't just spit out espresso. It grinds its own beans. It can fill a portafilter, carry it over to a heavily modified La Marzocco Linea, and lock it in to the group. It can pick up a cup, texture and pour your milk, then hand you the finished product. This thing is to Nespresso pods what the Death Star is to a Casio watch.
"The thing is, coffee is naturally inconsistent," says Liam Wilkie, who was brought on board by founder Flynn Macfarlane to bring ten years of hospo experience and specialty coffee understanding to the engineers working on the project. "You've got different minerals in your water. Temperature, and moisture levels. You get clumps and static. It's very difficult to make it the same every single time. That's what we're trying to do here."
And no matter how you feel about AI and the rise of the Precogs, you have to admit, this is one damn good cup of coffee. For example, Liam and the team have programmed Rocky to measure its pucks to within 0.2g. The machine literally shaves wafers of coffee off the top until the amount is just right.
The milk is the best you can get, too—sourced fresh from the guys at Inglenook Dairy near Ballarat. The coffee is Sensory Lab. And the precision of Rocky means every cup should taste exactly the same.
Probably don't tell all your mates about this one though—Rocky only has two arms.
Image credit: Annika Kafcaloudis
---