Oru Bake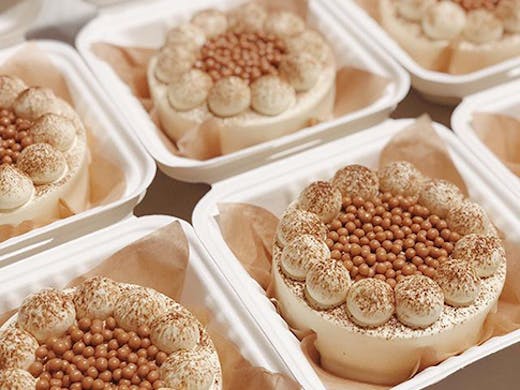 The Verdict
The only good thing that's Melbourne's lengthy lockdown has left us is several ghost kitchens continuing to trade without a brick and mortar locale. The latest to arrive via plenty of Instagram hype is Oru Bake, an account slinging a grip of loosely Japanese desserts which epitomise the age-old 'looks too good to eat' truism.
Scrolling through Oru Bake's profile, you'll immediately notice the Baby Cakes. There are several flavours available, but the sweet-tooth in us all shouldn't overlook the hoji cheese, which is made with a delicate roasted tea sponge, fresh cream cheese and salted-caramel pearls up top.
Oru Bake's Black Out Brownie should also be taken very seriously. These dense squares of chocolate are bloated with several fillings—like sea salt with 70% dark chocolate, or peanut butter and banana—of which you can order a mixed pack or just double down on your favourite.
For those who prefer something more snackable, take a look at the petite sea-salt meringue cookies and see if you can't stop yourself from eating a whole cup's worth.
Order up soon and you might be able to get in on their latest baby cake, a fluffy taro sponge number with light taro custard, fresh vanilla cream and topped with black sesame crisp.
Order via DM or through hello.orubake@gmail.com and keep an eye on Oru Bake's Instagram for what's currently on their menu.
Image credit: Oru Bake
---