Osteria Ilaria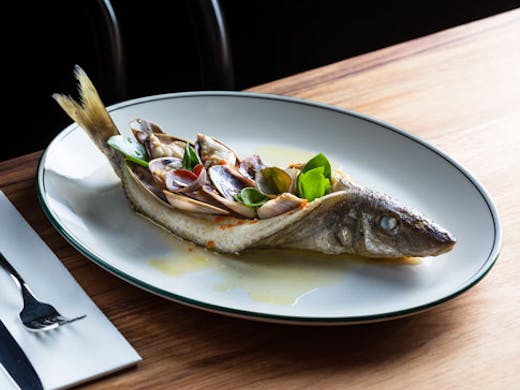 The Verdict
Tipo 00 may have changed the Melbourne pasta game, but chef and co-owner Andreas Papadakis was pretty adamant that this place was going to be different. "No pasta," basically says it all. Osteria Ilaria might have Tipo's soul, but it's going to be its own beast.
But, like all siblings living in the shadow of The Golden Child, it's got some big shoes to fill...
The concept is based on a modern Italian osteria: a casual wine bar and eatery where you can kick back with a good Pinot and watch the world go by. It's a pretty well-trodden path in the CBD (Embla and Kirk's sprining to mind), but if anyone can carve out their own niche, it's the Tipo crew.
And they've picked a good spot for it: the old Du Nord site (may she rest in peace), just up the hill from Tipo 00 on Little Bourke St. Du Nord fans won't recognise the place now—the re-fit is white and fresh and stunning, all patchwork paint and sleek bistro furniture, with a big open kitchen full of flashing pans and sizzling octopus on the Japanese grill.
Speaking of food, the menu is classically compact and effortlessly classy. Start with a cocktail spritz (an effervescent powder keg of white port, dark rum and tonic) and tuck in to fennel-flecked sourdough, lamb cutlets in a saucy romesco or the kickass mushroom croquettes (golden porcini parcels with a zingy aioli dip). If you're a fan of Tipo 00, you owe it to yourself to check out Osteria. With Papadakis and manager Luke Skidmore at the helm, you know it's gonna be special.
Image credit: Griffin Simm
---