Pablo's Escoburgers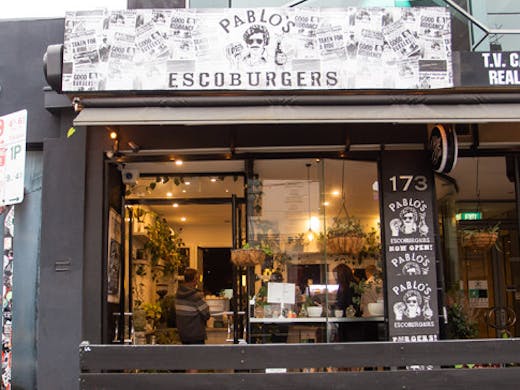 The Verdict
Located on High Street in Prahran, Pablo's Escoburgers is a pop-up burger joint that is part of the much-loved bespoke cocktail bar Promise Bar.
Now if you're not already familiar with the pop-up, we should probably come out and say that it's named after the notorious Colombian drug lord, Pablo Escobar. And yes, you did read that correctly.
As one might expect, Pablo's has been getting some criticism over the contentious naming of the pop-up, however, what they want you to know that they are not glorifying nor endorsing the actions of this criminal of a man—instead, they just want to make a damn good burger. We tried their burgers a little while ago, and honestly, they really delivered in doing that. These are some of the best burgers we've tried.
Let's unpack the menu, shall we? So Pablo's does an amazing smashed burger, and the most simple of the bunch has to be the Sicario. This your run-of-the-mill smashed beef burger. The patty is perfectly crusted and juicy on the inside, and the glossy brioche bun is warm and toasty.
The holy grail burger, however, is The Patron. This includes two beef patties, candied bacon, slow-cooked onion, lettuce, pickles, a drizzle of the Secret Cartel sauce, all of which is pillowed lovingly between a brioche. For the vegetarians out there, Pablo's also offers a mighty mushroom burger.
All of the regular Promise Bar specialities are also available. There is no set menu here though, as patrons can fill out a little choose your own adventure sort of pamphlet, and they'll surprise you with a cocktail that exemplifies their unique flare with something that you'll fall in love with.
Pablo's Escoburgers is open every day, from 12 pm until 10 pm.
Image credit: Marcie Raw
---