Palette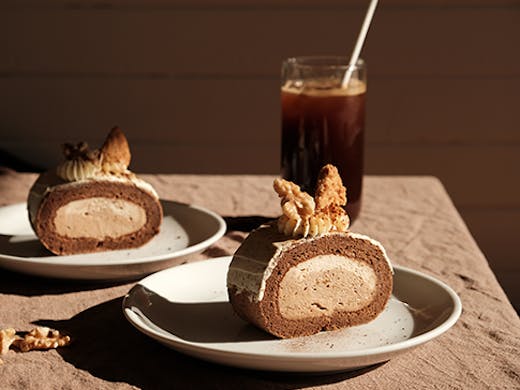 The Verdict
North Melbourne. It's that top pocket of the city that's full of hidden gems, and the latest that's been unearthed is Palette, a (loosely) Korean cafe that also does an exceptional Swiss roll.
The Korean inspiration can largely be found in Palette's pared-back interior and the menu, too. Tonal hues and minimalist furnishing add to the effect, while the likes of k-popcorn chicken and caramelised kimchi appearing on several dishes provide a true escape from North Melbourne to Korea, at least for just a moment.
You can find the classics—such as a delightful pulled pork benedict—on the menu, but there are several signature offerings that are worth a look-in should you be feeling adventurous, namely, the salmon and prawn tartare with wasabi pea puree.
There's a charming restrain to Palette which extends from the interior, through to the brunch fare and the desserts. The matcha and adzuki bean pound cake is proof of this, as are the Swiss rolls—should the choice be overwhelming, the mocha salted coffee cream isn't a bad place to start.
Palette is open from 9am to 3pm daily. Walk-ins only.
Image credit: @hehemade.
---