Paper Plate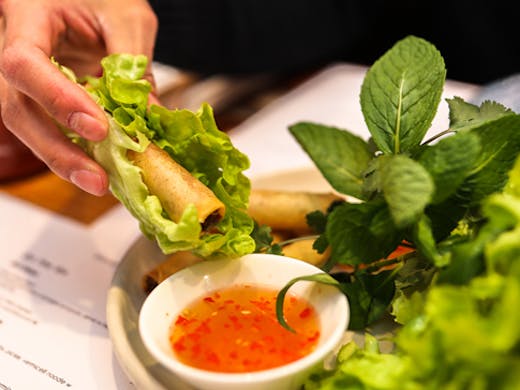 The Verdict
We've had our fair share of spring rolls, but no joke, Paper Plate's take the crown. Now that's a bold statement to make, and we may have been sceptical ourselves when co-owner Quoc Nguyen told us the Imperial spring rolls were their most popular dish…but after one bite, we were converts.
Touching down in Richmond in February, Paper Plate is the project of brothers Quoc and head chef Quan Nguyen. But the brothers are no newbies to Melbourne's food scene: Quan has six years under his belt from the popular Pho Chu restaurant in Footscray. Then he moved on to be sous chef at Elwood's Dandelion.
A nod to their childhoods in Vietnam, the name is a throwback to days spent snacking on street-food off paper plates. You can see memories like this throughout the restaurant's interior with bamboo baskets (used to filter rice) hanging on the wall. Back in Vietnam, the brothers grew up on traditional dishes like Pork Belly Clay Pot—a fiery combination of traditional Vietnamese flavours. The generously sized pot is filled with slices of pork belly in spring onion, garlic oil, and topped off with kimchi and a soft boiled egg.
"People are surprised because pork and egg don't usually go together in other cuisines," Quoc said of the brow-raising dish, but he's happy to report it's a star on the menu.
And now to the spring rolls…There are two on the menu—Classic and Imperial. And it's the latter that are flying out the kitchen doors. Rolled fresh to order, the filling is a combo of prawn and crab meat, fresh green papaya and all the herb goodness. Then it's wrapped in a very thin net wrapping and dipped in boiling hot oil. The result is a symphony of crunches and the three S's: sweet, sour, and savoury. If you're still on the fence, prepare to leap, because their Combination Pho causes a ruckus. The slivers of beef alone (sliced to order) melt in your damn mouth.
Paper Plate is open Tuesday to Sunday.
Image Credit: Paper Plate
---