Pav Queen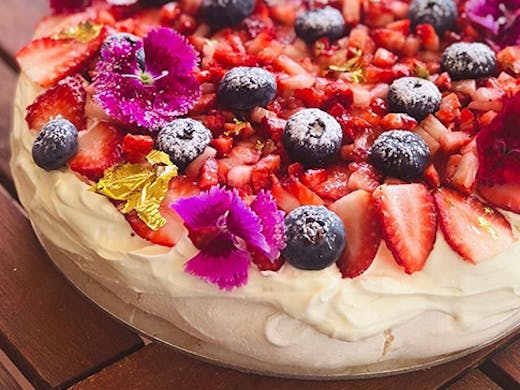 The Verdict
The people of Melbourne's hospitality scene have been busy during lockdown. We've seen some wild creations come out of the woodwork, like an entire mudcrab wrapped in pastry, a bacon and egg donut and a 3kg cookie dough cake. Sometimes, however, you can't beat a classic, and that's where Pav Queen comes in.
Pav Queen is the work of foodie and podcast host from That Food and Wine Show, Nerida McPherson, who started banging up a few pavlovas for friends during lockdown. After a few referrals and five-star reviews, Mcpherson's hobby quickly became 30+ orders a week.
The popularity of McPherson's pavs can be credited to her secret recipe that remains under wraps. What we can tell you, however, is that they strike that perfect balance of crispy on the outside and squishy on the in—they're also 100% gluten-free.
To meet the growing demand, McPherson has enlisted the help of her Mum and at times, her teenage daughter. The team has also relocated the operation into the kitchen of Melbourne's Lupo, which was offered up during lockdown after restaurateur Scott Pickett tried—and fell in love—with McPherson's pavlova.
You can get your hands on either an eight or 10-inch pavlova via the Pav Queen website. There's a classic berry or strawberry chocolate number available, with both being made from McPherson's secret recipe.
Delivery is available within a 35km radius of Collingwood.
Image credit: Pav Queen
---