Peaches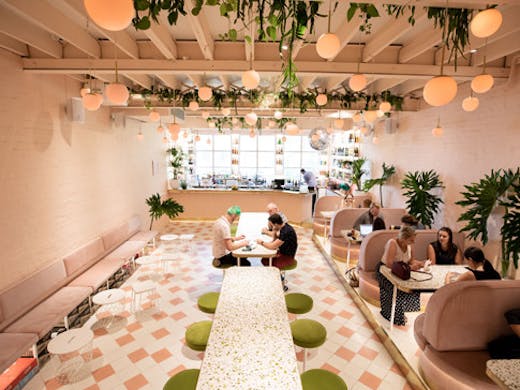 The Verdict
For something new and different in Melbourne, Peaches is a bar that's actually affordable. And get this: they serve up their famous hot chicken sandwiches until the last call. They also have $7 sausages and $7 chips, tofu sandwiches, fried chicken sandwiches and pickle backs, so it's safe to say you won't struggle to find something you like here.
And since it's, well, a bar, it's drinks galore at Peaches. Whatever you're in the mood for, Peaches has an extensive range of drinks on offer, ranging from non-alcoholic to a whole lot of booze. From their delicious cocktails (like their Livin' La Vida featuring coconut tequila, passionfruit and soda), to their sparklings, whites and rosés, you won't know which one to try first.
Inside you'll find a retro interior, with multiple booths decorated among the indoor plants and the large disco ball hanging from the roof. They also have communal seats with stools or secluded booths, so there's a space for every occasion. Better yet, if the Melbourne sun decides to shine through they also have a beautiful, beachy rooftop bar that overlooks the cityscape. Don't worry if the sun goes down and it gets a bit chilly, they have heaters and built-in seat warmers to last you through to the early mornings.
With a happy hour between 12 pm and 2 pm as well as 12 am until 2 am, let's be real: there really is no reason to be leaving this bar earlier than 2 am. Peaches is the perfect venue for all types of groups on all different occasions. A nice change from the dark, badly lit, undergrounds bars Melbourne is accustomed to, Peaches is a fresh venue that you'll find yourself constantly going back to.
Image credit: Kate Shanasy
---
You May Also Like
Food & Drink
Melbourne, VIC
Fans of flavour and seafood feasts, listen up. Louisiana-style Crawfish sensation,…