Peckers Parma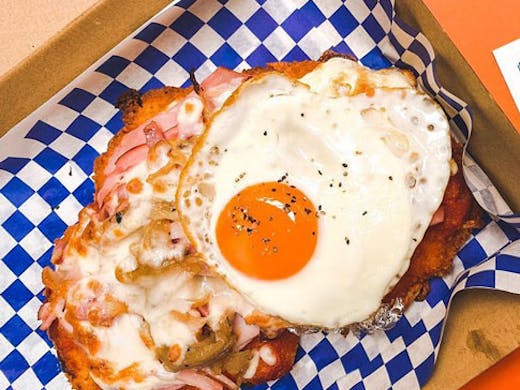 The Verdict
With the pubs closed right now, it's fair to say there are a lot of Melburnians craving a good old-fashioned parma.
Thankfully, Peckers Parma has come to the rescue.
Operating only via Uber Eats, Peckers Parma make a range of parmas and other treats for you to eat at home via contactless delivery, and they're also available for curbside pick up.
Peckers take their parmas serious, with 14 different flavour combinations on their menu. Get stuck into a Bawk Bawk, their classic parma with Napoli sauce, gypsie ham, and mozzarella cheese; or go for a parma with the lot with their Ozzy Oi Ozzy Oi that is topped with ham, bacon, caramelised onion, beetroot, a fried egg, mozzarella cheese, and BBQ sauce.
On the sides front they've got loaded fries, waffle fries, beer battered fries, along with onion rings and a range of salads.
Since you're going deep on carbs, you may as well also have a peek at the dessert menu. The Deep fried Mars Bar cake empanada served with Nutella and berry syrup is one you won't want to miss.
Head to Uber Eats or the Peckers Parma website to order.
Image credit: Peckers Parma
---