Pedla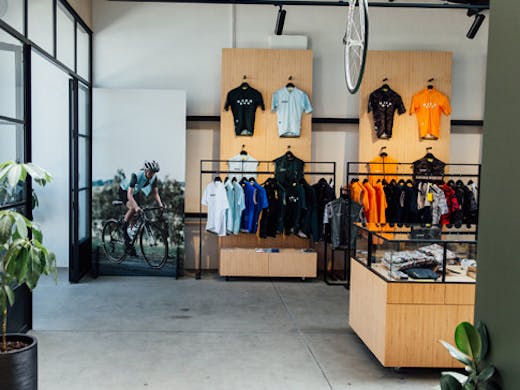 The Verdict
With sophisticated designs created to the highest quality using fabric suppliers from Italy and Switzerland, as well as extensive pre-production R&D, it's easy to understand why so many trust Pedla to keep their bums from getting sore after a long ride along Beach Road.
Founded by Justin Abrahams and Marcin Wojcik, Pedla's success has been highlighted through Abrahams expertise in sports branding (gained through Husk, an agency he founded in 1995) and Wojcik's vast artistic experience. Wojcik's art has been featured in numerous Australian galleries over the years, so he's responsible for that sweet artistic flair you see on Pedla's riding kits.
The duo is a match made in cycling heaven, spurring the popularity and success of Pedla since its inception in 2014. Nestled in a high-ceilinged, light-filled Collingwood warehouse, the Pedla space easily adapts from a retail space to an events space—it currently serves as a clubhouse for the Local Loops Cycling Club (LLCC)), a spin class gym (The Spin Room), and Tom's espresso bar.
The three entities (Pedla, The Spin Room, and Tom's) seamlessly coexist in the vast space, which has been shortlisted in two categories at the 2019 Australian Interior Design Awards, for Retail Design and Workplace Design. Take one step inside and you'll understand why.
With epic collaborations like Pedla X Crumpler and stock in numerous countries, it's easy to see that Pedla has a firm hold in the highly competitive and tight-knit niche of cycling apparel. Now it's just a matter of time before we see a Pedla jersey in Le Tour.
Image credit: Annika Kafcaloudis
---