Pembroke Bar & Kitchen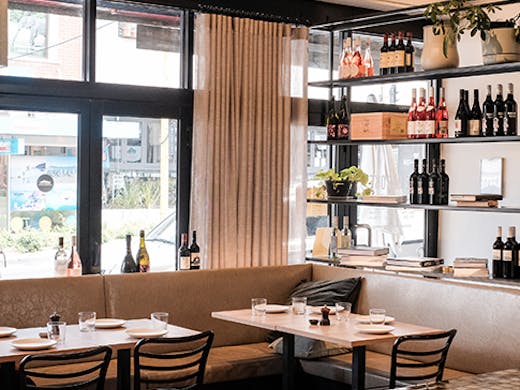 The Verdict
Surrey Hills might be a sleepy, cardigan-wearing kind of neighbourhood, but damn there's some good spots to eat (if you know what you're looking for).
Melbourne, welcome to Pembroke Bar & Kitchen, the latest venue from hospo whiz Adrian Morissy.
Pembroke lives in that hazy valley between 'Wine Bar' and 'Restaurant'. The vino selection is superb, but the food is a step up from Grecian olives and cheese boards. You'll find this place on Union Road, near Surrey Hills station, a little pocket of cosy sophistication on the main drag.
Fiona Lynch and her team handled the fit-out in here, and they've ditched the current monochrome trend. Pembroke is warmer: more beaten copper, earthy tones, low mood lighting and marble bench tops. It's not trying to be cool, just comfortable.
Chef Christos Milionis (ex Tipo00, Osteria Ilaria) is running the pass here, and he's put together a ripping little menu. Everything's designed to share (that's Wine Bar), but the plates range all the way to a Black Angus rump cap with shallots and mash (that's Restaurant).
Our pick? Start with a few of the smaller dishes. The oysters with lemon granita hit you like a salty citrus wave, and the mushroom croquettes with truffle aioli put your average triple-cheese variety to shame.
Next, load up with plates of salami and house pickles, grilled octopus with harissa, and then a larger plate—maybe the braised goat with chickpeas and cavolo nero. Goes great with the Cravens Place Shiraz.
Speaking of wine, Pembroke is running an excellent cellar. Nothing encyclopaedic, but a good variety of vino by the glass (including local Gippsland bottles, plus some rarer drops from Spain, France and Italy).
For tap beer, it's either Furphy or Panhead XPA, but we're not complaining about either. There's also a tight cocktail menu, built mostly around classic Gin Martinis and jugs of ruby-red sangria.
If you think Surrey Hills is all dog-walking and long naps, check this place out. It might just change your mind.
Image credit: Ricky Sam
---
You May Also Like