Pépite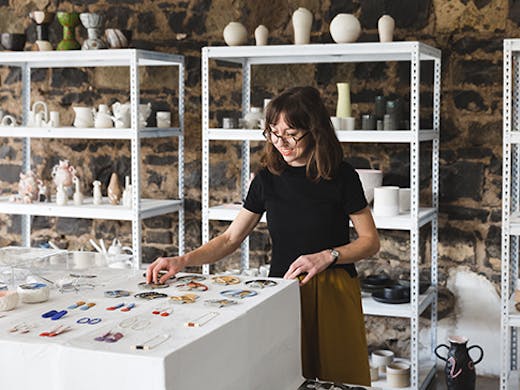 The Verdict
Pépite started in 2017 as a pop-up in Northcote: a small place for founder and artist Irina Rybakov to display her creations and champion some local designers.
Now Pépite is putting down roots. It's set up shop inside Alpha60's menswear store in Fitzroy. Thirty creatives have multiplied into 60: a handpicked selection of jewellery, ceramics, artwork and apparel from some of Australia's hottest young designers. Most of them live within 5km of the store.
It's a concept store—half gallery, half retail space, half treasure chest.
"The idea was to create a space that's somewhere between a shop and a gallery, and really shines the spotlight on the artists behind each object," says Irina. "We're so lucky to have an amazing community of creatives in Australia and I feel privileged to be able to showcase their work at Pépite."
Irina has been fighting for local makers since she came to Melbourne eight years ago. Since then she's worked with Frankie magazine, Craft Victoria and The Big Design Market. Pépite is basically a collection of her favourite things—not so much schnitzel with noodles, more brown paper packages tied up with string.
So what can you expect? It's hard to describe in print. You have to hold this stuff in your hand to really appreciate it. Small ceramic planters from Good Grief, whisky tumblers from Alterfact, watering cans like works of art (courtesy of Simone Karras) and beautiful vases from Dáša Ceramics. You can check out the full range online.
The textiles are also interesting, especially the 'dumpling purses' from Melbourne-based maker Togetherness Designs.
Irina is using Pépite's window as a tiny gallery space. At the moment there's a display from Melbourne-based Alterfact in there, 3D printed on porcelain.
Image credit: Bri Hammond
---