Phat Stacks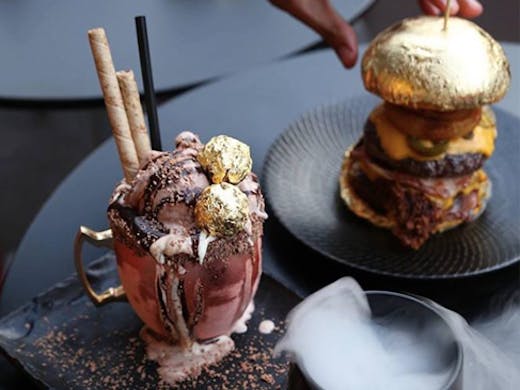 The verdict
Picture a burger the size of your head. Now picture it covered in gold and practically oozing with meat and cheese. That's what the chefs at Phat Stacks have created for your eating pleasure. And we have major ~ heart in eyes emoji ~ feelz.
Phat Stacks have created a 24K gold burger and, lucky for us, it's right in Camberwell. This baby is rockin' 24K golden buns, TWO beef patties, TWO slabs of fried chicken, TWO glorious strips of bacon, THREE slices of ooey-gooey cheese, AND onion rings, pickles, and jalapeños, PLUS a liquid nitrogen smoke show. WOO.
How's the heart? Still pumping? Good.
If that Goliath of a burger doesn't convince you that this place is your ticket to the gates of Heaven, their menu is quite literally stacked with juicy burger options. Even better, you can upgrade any burger to Gold Status if you really wanna be #extra and #winning. They're also pretty inclusive with gluten-free and vegetarian options, so we can all experience the hardcore burger sweats.
Burgers aside, Phat Stacks also does jaw-dropping, incredibly fabulous, Instaworthy shakes, like the Mr Mars (Cadbury chocolate, fairy floss and peanut butter) and Mid-Town Funk (crushed Oreos, Oreo ice-cream and peanut butter). If you're still with us, we recommend going for gold with their 24K gold Ferrero Rocher ice cream shake. Don't be greedy with these babies — you'll definitely need to share.
One more thing, if you want to combine your love for burgers and shakes, they offer a Nutella and ice cream burger that will literally send you to Cloud Nine with a very slim chance of coming back down. Clearly, Phat Stacks knows how to serve a party and we are here for that. Jump in the car and take a trip to Camberwell. Or Heaven. Whatever.
Image credit: Phat Stacks
---
You May Also Like
Food & Drink
Melbourne, VIC
Fans of flavour and seafood feasts, listen up. Louisiana-style Crawfish sensation,…