Pickings & Parry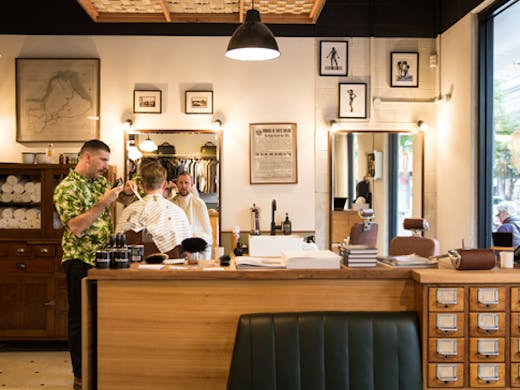 The Verdict
Pickings & Parry is one of those stores that makes you feel 10% more manly just by standing in it. As if, with enough passive exposure, you could arm wrestle a grizzly bear and mix an Old Fashioned at the same time.
Fans of the brand have been enjoying its cosy, beautifully designed Gertrude St store for ages, but now Pickings & Parry has moved...to Gertrude St. Basically, owner and menswear genius Chris Pickings spotted a rare double storefront, just down the road, and he pounced like a Bengal Tiger. Spaces like this come up about once every twenty years, so for canny retailers the only real question is: how many body parts do we need to sell to make this happen?
Thankfully, that wasn't necessary in this case. And we have to say, Pickings wears its new suit with panache. The building is new, but Rob Neville and design company StorePro have done an amazing job to capture the old-world elegance of the original space. The highlight? A ceiling made from a lattice of timber and old firemen's hoses (Chris scoured Victoria for months to find these).
So what's new at 166 Gertrude? Quite a bit. The barbershop is still running, but the space has been expanded, and you can now sit up at the window, sipping a whisky while getting a straight razor shave. The product line has grown too: outerwear, leather boots, jackets, luggage, grooming products, stationery, books, winter knits, jeans, Otter Wax leather care saddle soap...it's all here. You could walk in Justin Bieber and emerge George Clooney.
There's an online store too (with a helpful gift guide, arranged by price), but the essence of Pickings & Parry is a human touch. It's better to drop by the new space. Nearly everything is designed to be worn and used for years (not months). Old-school craftsmanship from brands like Blue Blue Japan, Barbour, Filson, Stetson (yep, the hats), Sugarcane and Wolverine.
The prices are steeper than you might be used to, but you're paying for quality. It's basic economics: you could buy one pair of $500 boots or 10 pairs of $100 boots (and still have wet feet).
Want a trim? Barber prices start at $50 for a standard snip, or you can go a razor fade and a beard trim ($75) or a straight razor face and head shave ($50). Don't forget a whisky from the well-stocked bar. Make ours a double. Neat.
Image credit: Jenna Fahey-White
---