Pidapipo | CBD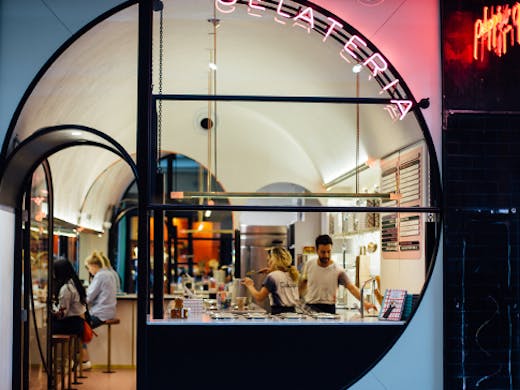 The Verdict
Just when you thought it was safe to go out in the city...
After building a cult following on Lygon St and Chapel St, pastel pink gelateria Pidapipo has just opened its third location in Degraves St, Melbourne proper. And they're bringing a LOT of ice-cream.
Degraves regulars will hardly recognise the new store. It used to be a pokey little travel agent, until Rabindra Naidoo Design swept in like a stylish Italian hurricane (they're the guys responsible for the uber-cute Pidapipo stores in Windsor and Carlton). This one's a little different: a mashup of 1920s Italian Rationalist Architecture (basically this) and a Mad Hatter's Tea Party. The pastels are back, as are the chocolate taps—joy, oh sugary joy.
Pidapipo's new locale will feature 20 rotating gelato flavours, including classic hits like malted chocolate and salted caramel, new friends (hello, black sesame) and even a select menu of icy-cool granitas. You can even mash-up gelato with the citrus stuff: try Dark Chocolate Gelato with Blood Orange Granita or Fior Di Latte Gelato with Raspberry Granita. Tastes a bit like a high-class spider.
"We'll have 20 flavours on rotation, made fresh from scratch each day, using the very best ingredients and stored in Pozzetti to main optimum quality," says gelato-wizard Lisa Valmorbida.
Even better? Pidapipo are celebrating the new store launch by giving away FREE SCOOPS today (20 April) in Degraves St. The ice cream stampede will kick off at midday and run till 3pm. All you have to do is point to the flavour you want. Form an orderly queue, guys...
Who needs a travel agent anyway when we've got the best of Italy right here? Dolce dolce dolce...
Image credit: Pidapipo
---