Pie Thief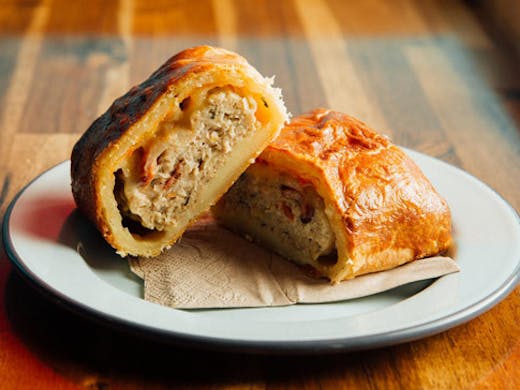 The Verdict
Good things come in small packages at Pie Thief. We're referring to both the tiny, golden bundles of joy—pies—and the fact that Pie Thief venue is quite small.
Sporting a 90s nostalgia feel, Pie Thief is serving up the most comforting pies you'll ever want to get your hands on. We're talking steak and cheese, lasagne pie, bacon and egg to brighten up your mornings, chicken curry, and vegan pumpkin and tofu cheddar. You can also take your pick between two tasty sausage rolls: chicken parma and pork and fennel.
If you're thirsty, you can sip on some coffee, a milkshake or two (the peanut butter one is our guilty pleasure) or Milo to really drive that comfort level up. It's basically the perfect place to go when you're having a crap day. Or a great day even. And if you're still not full after eating all those pastries, you can grab a vanilla slice and really hammer that final nail in your gluten consumption coffin.
After great success with their previous special, the Parma sausage roll, Pie Thief has taken it to another level with the launch of their Dim Sim sausage roll in late-July. The dim sim is already the perfect snack, combine it with a sausage roll and it heads to god tier.
So where can you get your hands on all that moist, flaky goodness? Pie Thief is located at 297 Barkly Street in Footscray and it's open Monday - Saturday from 7 am - 4 pm and Sundays from 9 am - 4 pm.
Image credit: Annika Kafcaloudis
---