Pierrick Boyer Cafe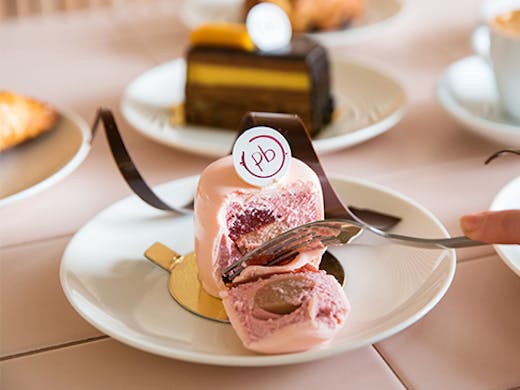 The Verdict
It's a tough gig, opening a dessert bar. Petit gateaux and decadent nibbles might sound like a no-brainer, but think about it: how often are you really craving pistachio and strawberry tarts?
That's why award-winning pastry chef Pierrick Boyer has been canny with his new cafe and patisserie. You've still got the delicate desserts and exquisite cakes (which he mastered at Le Petite Gateau in the CBD), but they're served alongside a classically Melbourne brunch menu. In other words, it doesn't matter if you're here for sweet or savoury, Pierrick is gonna send you home with a smile on your face.
This is Boyer's first solo venture. The French-born chef has won just about every sugar-coated award you can win in Australia, but he wanted to mix things up with this place on Izett St.
"The intention was to create a venue for people to escape the hustle and bustle, indulge and relax and I think we have executed that really well," says Boyer.
"With a comprehensive kitchen for both savoury and sweet, we aim to produce exemplary food in a beautiful atmosphere."
And it is beautiful in here. Prahran locals will know it as the old Dish'd venue: ivy-covered on the outside, light and breezy on the inside. Pierrick has added a pop of magenta and Millennial pink, plus a beautiful indoor garden, running the length of the street-level windows. ZWEI Interiors Architecture helped out with the minimalist aesthetic.
Now, the food. The brekky menu is pretty substantial, and there's a good range of gluten-free, nut-free and veggo dishes on there (you can thank two gluten-free chefs in the kitchen, and Pierrick's vegetarian wife). The chilli scrambled with crab and the smoked ham hock benedict are good meaty options. For sweets...how much time you got? There's a huge range of cakes, sponges, tarts and éclairs in the counter fridge, and you can get desserts to dine-in or takeaway. We recommend either the classic lemon tart, or the PB Passionfruit Brownie—a rich brownie base, topped with crunchy praline, passionfruit custard, choc mousse and ganache.
Stick a fork in us. We're done.
One last thing—Pierrick's new cafe also boasts a big educational kitchen for cooking classes (hosted by the man himself). Keep an eye out for those on his website.
Image credit: Jenna Fahey-White
---
You May Also Like