Pinchy's | Emporium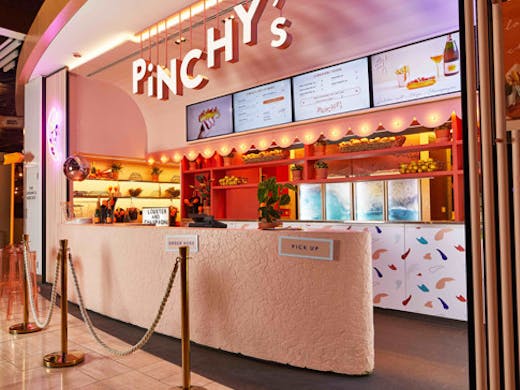 The Verdict
Pinchy's offers premium seafood with a difference. Located in Emporium, these guys aim to educate consumers about the protection of our oceans, while offering fresh seafood that is traceable yet delicious.
After opening their first pop-up at HWKR, Jeremy Schinck and Nick Young realised a growing market for sustainable seafood in Melbourne (and not to mention that Melburnians completely devoured the signature lobster roll they were offering).
The Emporium Melbourne pop-up is an ongoing extension of the team's commitment to seafood sustainability, taking it one step further by focusing on premium seafood paired perfectly with a glass of champagne.
Pinchy's supplier Cozy Harbour Seafood is the only lobster processor in the USA to achieve a BRC Grade A Certificate, ensuring that products are safe, legal and of the highest quality. The lobster is also USFC & FDA approved in which all processes aim to protect endangered species. So pop in and enjoy the luxury that is top of the range seafood, while supporting a growing cause.
Image credit: supplied
---