Pizza Farro | Fitzroy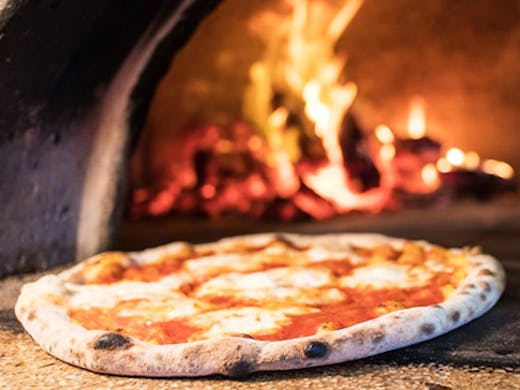 The Verdict
'Farro' is Italian for 'spelt'. And 'spelt' is an ancient grain that's high in fibre, boosts the immune system and helps digestion (unlike most wheat-based grains). Why does this stuff matter? Because Thornbury's health-conscious pizza joint Pizza Farro have just set up shop in Fitzroy. And they're slinging spelt bases AND dedicated gluten-free pizza all day long.
After the success of their first Thornbury venture, the Farro team decided that more neighbourhoods need to try one of Melbourne's highest ranked gluten-friendly pizza places. And then they found a lease on buzzing Brunswick St.
The menu is still pumpin' with all your favourite pies, like Quattro Formaggi for you cheese-addicts and Capricciosa if you love a good Italian smoked ham. But they also offer Italian antipasti, salads and desserts. Think polenta chips, calamari fritti, salumi boards and a refreshing orange and endive salad. Plus, they're stocked with an assortment of local and imported beer and wine. Tick, tick and double tick.
Bonus—everything on Farro's menu can be made gluten-free or vegan on request. The polenta chips are also 100% free of the gluten, served crispy golden with rosemary and vegan aioli. Two of the three salads are also gluten-free (our pick is the Orange & Endive with pickled fennel). Even the vegan chocolate mousse is gluten-free. No bloating at this pizzeria, no sir.
For the rest, Farro uses 100% organic spelt flour for all pizza and bread. Grab your vegan mates. Get into Farro and get munching. This place is awesome.
Keen to check out Farro? Purchase a gift voucher here.
Image credit: Pizza Farro
---