Pizza Pony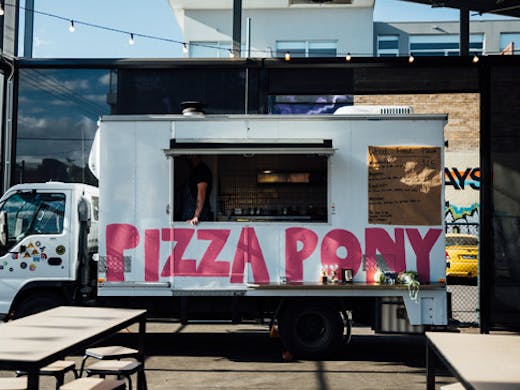 The Verdict
Connie Polito and Michael Nihill have been in the Melbourne hospitality scene for years. After running a successful pizzeria, which quickly became a Melbourne favourite, they sold the business and moved away from it. And in the last few months, the dynamic duo has been operating a food truck with an interesting name.
"Initially we were looking at a horse truck," Connie says. "And we were wondering what we would call it if we got the horse truck. And we came up with Pizza Pony."
Although they didn't end up getting the horse truck, Connie and Michael kept the quirky name, which goes perfectly with Pizza Pony's bare-bones aesthetic. But what's most important is the pizza. Oh man, the pizza.
Pizza Pony doesn't mess around—they have a massive built-in pizza oven in the truck (courtesy of Polito Wood Fire Ovens) that allows them to put out hot and gooey pies fresh out of the oven. Yep, you read that right: a wood-fired oven in a truck. It's a sight to behold.
Both the oven and the yummy-as-hell dough are the secret to Pizza Pony's amazingly delicious Neapolitan pizza. The selection is straightforward: margherita, pepperoni, eggplant and a delectable mushroom pizza that'll send your tastebuds to Pizza Heaven. For those of your with dietaries, you'll be pleased to know that you can order a vegan version of all the toppings.
But it's Pizza Pony's simplicity that makes it so good and so fresh. Plus it totally helps that every pizza is prepared right in front of you and comes piping hot out of the oven. So believe us when we tell you this is easily the most delicious and authentic Neapolitan pizza we've ever tasted out of a truck. Or possibly ever.
For now, you can party with Pizza Pony at Welcome to Thornbury and Cremorne Food Trucks, but check out the Pizza Pony Instagram to find out where they'll be stationed next. We promise you won't be disappointed.
Image credit: Annika Kafcaloudis
---