Pontoon Park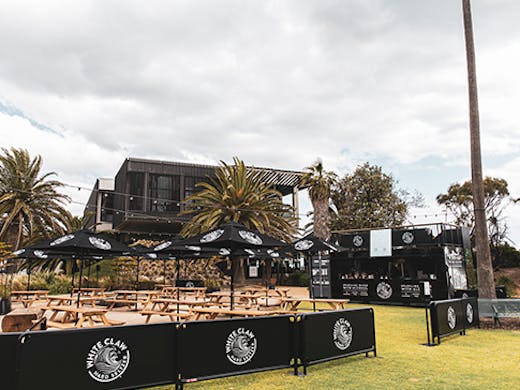 The Verdict
Just a few months back, the idea of having a beer with your mates in the sunshine seemed about as unlikely as leaving the house without a mask. While there's no movement on the latter just yet, Melburnians can crack a cold one with their mates this summer in a prime outdoor locale called Pontoon Park, courtesy of The Stokehouse Precinct.
Set up just by the beloved Catani archway in St Kilda's Catani Gardens, Pontoon Park is keeping the bulk of their seats aside for walk-ins—a phrase Melburnians are all of a sudden very excited to hear, and no doubt a 2020 buzzword.
The beachside haunt has some serious backing, too. Hard seltzer veterans White Claw are tapping into another 2020 trend by taking care of the drinks list with several seltzer flavours primed for summer, a grip of cocktail jugs for your and your mates, and of course the usual suspects like beer and wine.
Like everything else about Pontoon Park, the food offering has been kept casual with five pizzas on offer—all coming from Pontoon's pizza oven, so you know they'll be the goods. Stick to the classics with a spicy salami number or double down on the theme and go for a prawn-heavy Surf n Turf.
There are plenty of picnic tables to go around, though it's expected these'll fill up quick with plans for live music pop-ups at St Kilda's newest—and arguably only—seltzer garden.
Pontoon is open for walk-ins all summer long from Thursdays to Sundays. Expect extended days and hours as restrictions continue to ease throughout the remind of the year.
Image credit: Parker Blain
---