Poodle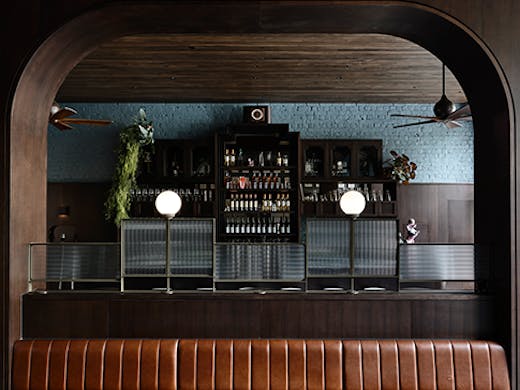 The Verdict
The team behind cult takeaway pop-up, Rocco's Bologna Discoteca, have opened up their permanent venue in the same space, Poodle.
Poodle comes after an 18-month build and several pandemic-related delays. The menu takes a more restrained approach compared to its temporary predecessor, with Chef Josh Fry (ex Marion and Cumulus Inc) looking to classic Euro-cuisine for inspiration.
Early highlights include a hand-picked spanner crab paired with Yarra Valley salmon roe vol-au-vants, a truffle-laden baby spatchcock and a tripe dish aptly titled Tripe Ala Poodle.
Further refining the menu is the likes of several steaks and fresh oysters, though Fry has acknowledged the success of Rocco's with several playful nods on the list, namely, the Poodle Club Sandwich.
"I wanted to create a menu that is concise and considered. We make our breads in-house, we are curing meats for our own charcuterie and of course we had to have a banging sandwich on the menu as a little nod to Rocco's", says Fry.
"We use three layers of bread brushed with chicken fat, then toasted. It's filled with crispy chicken skin, thinly sliced ham-hock terrine, iceberg lettuce, tomato, and tarragon mayonnaise. Served with tarragon salt and vinegar chips."
The venue, designed in collaboration with Melbourne's Bergman & Co, has an old-world hotel charm that's peppered with a few cheeky, modern sensibilities. You'll find a charming dining room on the ground floor that's skirted by a front bar, and a courtyard primed for Melbourne's summer season. Upstairs is a cocktail bar and an intimate private dining room.
Like every other element of Poodle, the drinks list has been meticulously considered with good times in mind. Think local and European wines across both levels, while upstairs will draw focus on late-night cocktails and Apéritifs.
There are several sneak peek bookings are available as of now, while the à la carte menu will be serving from Sunday 19 July.
Image credit: Derek Swalwell
---