Progression Fitness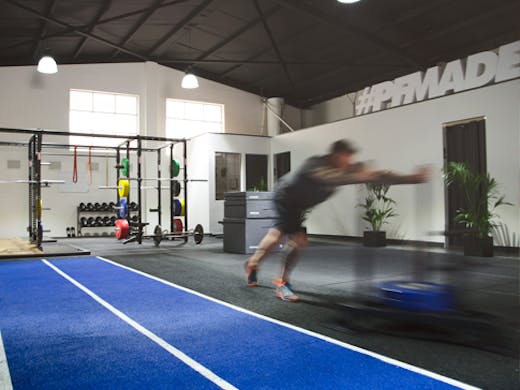 The Verdict
Whatever else you think about New York City, those guys know how to gym. And now a slice of that Big Apple, boutique fitness scene is getting its sweat on in the backstreets of Cremorne, near Swan St. It's called Progression Fitness, a joint project from owners Scott Pendlebury (of Collingwood fame) and trainer Ben Scolyer, built on professional coaching and high intensity training (HIT). If you haven't tried a HIT session before, you probably don't know what a 'workout' really is.
Facilities-wise, Progression has your pre-work needs covered. There's a 3-lane sprint track, 20-bike spin room, yoga loft, boxing zone and equipment courtesy of Iron Edge. Classes range from a standard athletic HIT (called 'Sweat'–no prizes for guessing why) to strength training, cycling, running and yoga. Progression trainers also offer corporate packages and private sessions if you'd like them to come to you (all they need is a handy park nearby).
Early birds, rejoice, the gym opens at 5:30am on weekdays and runs until 8pm (Saturdays and Sundays use a different timetable). If you're tired of being judged by that faded membership card in your wallet, or you just want to kick your routine up a notch, give Progression a try.
Image credit: Progression Fitness
---