Promise Bar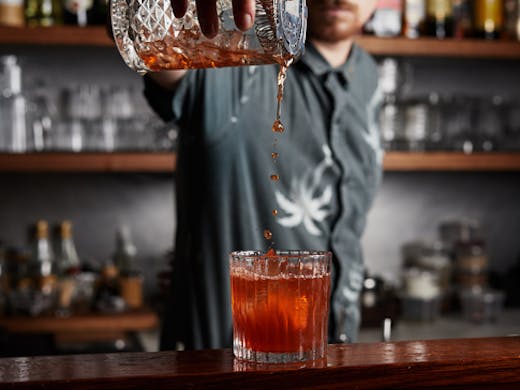 The Verdict
We'll be the first ones to admit: we suck at keeping secrets. Especially delicious, alcoholic secrets hidden inside innocent-looking High St cafes.
Welcome to Promise bar, guys. The promise being: you're gonna love it here. Promise is a Prohibition-style speakeasy bar, hidden inside a coffee house in Prahran.
And like all the best speakeasies, there are clues if you know where to look. That 'Staff Only' sign above the panelled wall for instance...a little suspicious wouldn't you say? Well, send the right signals to the girl behind the espresso machine and she'll slide the door open and reveal a grungy, skull-dotted late-night cocktail lounge.
Owner and carpenter, Vaughan Marks runs Parlay Skateboards. Promise is his little side project that he designed and built himself: somewhere for Prahran locals to come and just be. Drink some quality booze, make some friends, kick back and enjoy themselves. And the décor definitely lends itself to conversation: from the rust-painted bar and moody pendants to the bathroom illustrations from local artist The Darkness Lives. The sign near the bottles reads, 'There are no strangers here, only friends you are yet to meet.'
Promise doesn't have a drinks list per sé. You have to order off menu. Sidle up to head barman Tim McCurdy and state your preference: sweet, sultry, hard liquor or something softer. Tim was a regular behind the bar at Loch & Key (along with a few renowned Melbourne bars—Eau De Vie, Boilermaker House and the late Fall From Grace) and he's a pro at matching people to cocktails.
"We have little Pick your Promise cards," says Vaughan. "You can tick 'Play it Safe' or 'Be Adventurous'."
Promise isn't doing food yet, but there's a hefty-sized kitchen out back, and Vaughan has plans to launch a food menu in the near future. For now you'll have to make do with some cracking toasties and Reubens from the cafe up front.
The cafe itself is still an actual working cafe. It's just the Ying to Promise Bar's Yang. "The idea is you step from the light into the darkness," says Vaughan. "Out here it's all about the light. And Promise is the dark secret."
If you're a sucker for good cocktails and hidden drinking dens, give this place a try. Just don't tell a soul when you find it.
Image credit: Griffin Simm
---