The Provincial Rooftop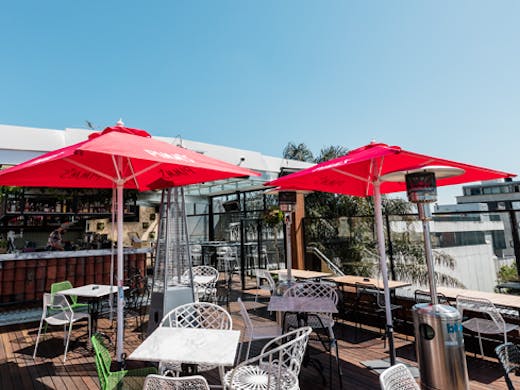 The Verdict
If there's one thing we know you guys go crazy for, it's a secret spot to check out. Throw in the fact that it's a rooftop, just in time for summer, and oh boy—looks like this little gem just became your summer go-to.
If the words 'rooftop bar' isn't enough to grab your interest and provoke a tagging frenzy, then think vibrant cocktails, breezy seating, and finger-licking good bites all in the heart of Fitzroy at the newly-launched Provincial Rooftop.
Located on the top level of the classic Provincial Hotel, this re-vamped rooftop bar in the iconic Brunswick Street precinct is set to be the pinch of something-something your summer was most definitely missing (you can thank us later). Inspired by the classic lush rooftops gardens of New York, this is 100% going to be the setting of many a cocktail-fuelled Sunday session.
Quench your thirst with the extensive wine list, which refreshingly features primarily Australian vineyards, or work your way through the impressive cocktail menu with names and flavours that immediately scream 'TRY ME!!' Or, more realistically: "GRAM ME!!". Capture summer in a glass with the So Fluffy!!! (light, fizzy and tropical) or get adventurous with the No Pardon! (a Mexican take on the Old-Fashioned infused with smoked jalapeno). We'll take two of each thanks…
Bites are hearty and delicious with the burgers a must-try. Get into The Jack Nicholson (fried chicken and mac patty) or The Fitzy (beef, cheese Doritos, and bacon). No, we're not kidding, REAL Doritos. In a burger.
Ugh, just get us here ASAP thank you.
Image credit: Griffin Simm
---