Puzzle Coffee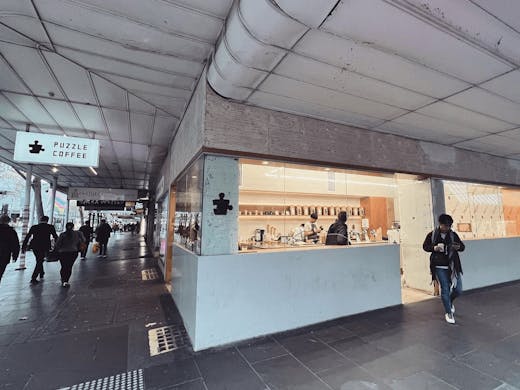 The Verdict
Opening up just over a year ago in turbulent COVID times, the first Puzzle Coffee shop with its minimalist and ultra-chic design took over the corner of Swanston Street and Little Collins. Fast forward to today and the ribbons have just been cut on their second outpost, taking over the exceptionally tight-spaced shop at the entrance to Melbourne Central, formerly of Standing Room.
Formed by a collective of friends who share a common love for coffee and wanted to do something different in the industry by focusing on sustainability and building a community. The name itself invites its customers to become a piece of the puzzle, re-establishing the much-needed emotional connection around the morning brew.
At both venues you'll find a myriad of options, they've got a selection of house blends, and single origins from several continents including South America and Africa. There are also filter brews and even newer inventions like black sesame or Biscoff lattes, as well as a dirty (single-shot of espresso) iced Matcha

The coffee here is at the forefront but running a close second is the sustainability factors of Puzzle, everything is meticulously considered from selecting ethical partners for their beans from overseas right down to their cups, which are an edible mix of oat and grain courtesy of Good Edi.

Alongside the two-in-one coffee and breakfast vessel, they also work alongside tree planting organisations specifically in Madagascar, donating a tree with every 100 coffees sold in an attempt to aid the reforestation of the island.
If you prefer your coffee alongside something a little more traditional they also have a range of baked goods carefully curated in the display cabinet with sandos, and more on-the-go type food on the cards for the future.
There's more ahead for Puzzle, the coffee empire has future plans for a further Southern Cross, Chadstone and even a Singapore-based store. Keep an eye out here for all updates.

Image credit: Puzzle Coffee (supplied)
---