Queen Vee's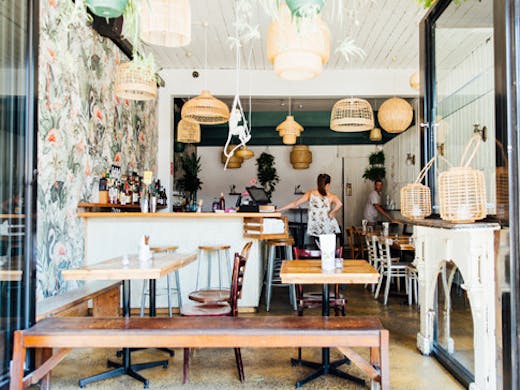 The Verdict
Trust us when we say you'll become regular visitors at Queen Vee's once you have your first bite of Jerk.
There's smoked chicken Jerk, fish Jerk and jackfruit Jerk—basically all the Jerk options you could ever want, and all served with pickled cucumber, charred pineapple and a green mango salsa. This shit is fresh.
Queen Vee was created by Ben Rosenberg (Freelancer Café) and Liam Whiticker (ex Movida and Gills Diner).
Liam also happens to be the Executive Chef here, creating a Caribbean-inspired menu with some twists to make it a little more Melbourne. Think flavour additions like miso and sides like their jalapeño mac n' cheese pie. A little weird but oh so tasty.
The venue opened up in late 2018 in the original site of Hanoi Hannah's first location but has been transformed into a Caribbean-style paradise with pastel pink and green tropical wallpaper (feat. flamingos), Rattan pendants and hanging plants. Basically, you'll feel like you've gone on a tropical beach get-away minus the plane ticket prices.
Once you've made yourself at home in your tropical surroundings it's time for some booze. Rum-based obviously.
There are 10 rums on shelf, but we recommend their signature drink, The Painkiller. It's a heady mixture of rum, coconut cream, pineapple and cinnamon, and will have you feeling pretty…relaxed, shall we say.
To soak up all those cocktails we'd suggest literally anything off the menu, but our eyes are on the oxtail stew served in a rich gravy with runner beans and baby carrots, and the miso and tamarind-glazed short ribs with a green mango chutney, pickled cucumber and lettuce cups.
Image credit: Annika Kafcaloudis
---